Assistance League of Bellingham is best known for our signature program, Operation School Bell®,which provides new school clothing and shoes to students in grades K-12.
Our goal this year is to provide 2,000 low income elementary, middle school and high school students with new clothing for back-to-school.  Eight school districts within Whatcom County will be served:  Bellingham, Blaine, Ferndale, Lummi, Lynden, Meridian, Mt. Baker and Nooksack. Each district is allotted a specific number of "slots" based on enrollment.
The school district homeless liaison coordinators who work with low income and homeless families select the students participating in Operation School Bell.
We partner with Target at the Bellis Fair Mall to allow students to select school clothing during special "shopping events" that last from 3 to 4 hours.  This year we will hold nine shopping events in the fall, and the students will be allowed to spend $100.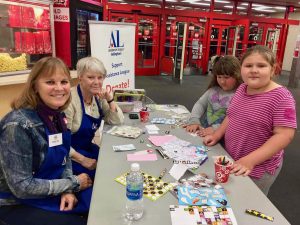 Approximately 15 to 20 Assistance League member volunteers are needed for each shopping event. We will be wearing blue aprons so we can be easily recognized!  At the Mall entrance to Target, a table will be set up to greet families and manage the check-in process using a computer program called RegManager.  Floor assistants will roam the floor answering questions and helping as needed, while keeping the store tidy.  Other member volunteers will be assisting at the cash register bagging and handing the students their new items.  Tags will be cut off so clothing cannot be returned.  There will be a table available if the children want to create a thank you note.