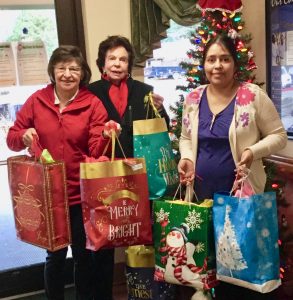 Below is a note from the Activities Director of Avamere Bellingham Health Care to Anni Martinek, chair of Assistance League of Bellingham's Care Center Support program. Anni is wearing the red coat in the photo on the left.
"Hello Anni and the whole Assistance League team,
Our residents were so happy to receive such wonderful generous gifts from you all during our annual Christmas party. We spent the morning with Santa delivering to rooms for residents who would not be able to attend the party. The party was in the afternoon and our residents were so excited for Santa to arrive and distribute the gifts which displayed under the tree. The sizes, colors were perfect. Very well organized.  Thank you for all you do and your generosity makes a difference in making our residents happy."  
Warm regards,
Rani Kathuria, Activities Director
Avamere Bellingham Health Care       
Anni reports that the Care Center Support program is unique in many ways. "We provide Christmas gifts to residents in eight different long-term care facilities: six in Bellingham  and two in Ferndale. The activity directors identify potential recipients (anyone with a limited income or little social support). They are asked what they would like Santa to bring them for Christmas. Assistance League members volunteers 'shop til they drop' to purchase the requested items. They wrap and deliver the gifts, thereby spreading the joy of the season.
Last year over 300 gifts were delivered to 131 residents in 8 different care centers. Some of the requested items were: flannel PJs, cologne, a lap blanket, large print picture books, and dog treats for a service dog that visits.
"We truly spread a little joy and bring such smiles to the resident's faces. We wish we could do it more often. Have you ever received a gift and you were so touched by the gesture that you burst into tears? I have witnessed the tears of joy as gifts were opened. It is truly a humbling experience. I am proud to belong to Assistance League of Bellingham."