Operation School Bell® –
Elementary
Elementary school students throughout the Coachella Valley receive brand new clothing.
Operation School Bell – Hygiene Kits
Hygiene kits are provided to all 4th and 5th grade students, via the school nurses, throughout the Coachella Valley.
Senior Services
Seniors in high-need facilities are provided with companionship and entertainment.
Operation School Bell – Backpacks
When registering, kindergartners receive colorful backpacks to start off their school journey.
We Care: Focus on Military Families
First time moms-to-be from Twentynine Palms Marine Base are celebrated and gifted with a "must have" items at baby shower.
Scholarship for the Arts
The Frank Moss Scholarship provides financial support to students talented in the arts.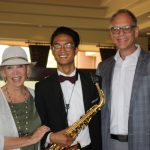 These are just some of the ways we act to better the lives of children and adults residing in the Coachella Valley.