Saturday March 24th, 2018 will mark the 15th Annual "Treasure Bazaar."  This is our biggest fundraiser for our philanthropic programs, most notably Operation School Bell®, by which we clothe over 3,000 San Diego area school children annually. Our Thrift Shop at 108 University Avenue in San Diego, is the grateful recipient of community donations throughout the year, and from those, we cull the "Treasures" that we offer at our big sale.
Our "Treasure Bazaar" spills out the backdoor of our shop into the parking lot on 1st Street.  There we feature fine art and furniture, and continue indoors with fine and vintage jewelry, retro household items, crystal, fine linens, vintage clothing and accessories.
Don't miss this year's Treasure Bazaar on Saturday, March 24, 2018 from 8 AM to 2 PM!!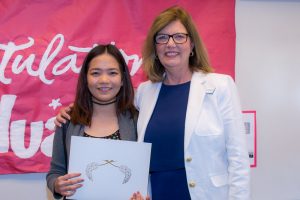 As the school year ends, we award substantial college scholarships to students graduating from high school and to students moving on from local community colleges to complete their four-year degrees.
We are proud to invest in the futures of these impressive and deserving young people!
Upper Division Scholarship Application available now!
April 6 at Mt. Woodson
The registration fee of $75 per player includes 18 holes of golf at Mt. Woodson, a golf cart, box lunch, tee gifts and prizes.
Limited to 72 players – early registration is recommended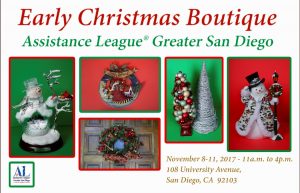 Our festive Early Christmas Boutique occurs in early November, and features a wide selection of beautiful decorative items for the holidays. Additionally new gift items are offered for sale to make your holiday gift shopping easier and cost effective.
We even offer complimentary home-baked treats and hot cider for our shoppers' pleasure.
Don't miss next year's event! Check back here for dates.