Thanks to everyone who helped make this a fantastic evening including our lovely mistress-of-ceremonies Chita Johnson Craft, the  doo-wop band The Pleazures and the Mack Hayes Duo, which provided delightful entertainment throughout the evening, and auctioneer Steve Simon.
The Briar Club was a beautiful venue providing a delicious dinner with nice wines, and the auction items were very well received.  We have received positive feedback from so many attendees especially regarding the speakers for the evening:  Jeremy Peaches from Pro-Vision speaking on the Scholarship Program and Armando Rodriguez of Headstart speaking on Operation School Bell®.
Celebration of Giving donated an auction item, which was a beautiful quilt made from scraps of fabric used for holiday stockings given to children in need in Texas Children's Hospital during the holidays; and Michael Crowder, the first-place winner from the Assistance League of Houston Celebrates Texas Art, donated a beautiful piece of art for the auction. Everyone was greeted by two students, Autum Green and Isaiah Green from Cummings Elementary School looking adorable in their OSB uniforms.
The Dine With Wine Gala was a great success and, again, thanks to all of you for helping make it not only a fun evening but also a profitable evening for our philanthropic programs.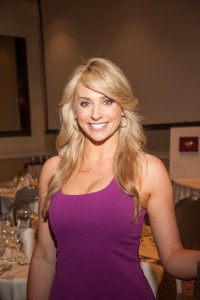 Mistress of Ceremonies, Chita Johnson Craft