Assistance League of Stockton thanks the following foundations,
organizations 
and families for their generous support:
Bill and Florine Burch 
Camilla and Bill Wolak
Charlotte and Bud West
City of Stockton/Federal Government's
"Facade Improvement Grant"
Collins Electric Company
Cortopossi Foundation
Douglas Eberhardt
E. Urban Ernst
lona and Doyle Richenberg
Jack and Doris Marks
Kavanaugh Family
Kohl Elementary School's "Day in the Dirt"
Larry Brown,Glass Collector
Lorraine and 'Skip' Halvorson
Morning StarLodge Shriners
Moss Adams Accounting Firm
Nate O'Brien
Payless Shoes 'Gives 4 Kids'
Phillip Espalin, Architect
Randy Pierson and Stratus Construction
Sharon Swenson and Family
Stockton Olive Oil Project Charitable Organization
Stockton Sunrise Rotary
Stratus Construction Company
Tokay Antique Club
United Way of San Joaquin
And, our many members who helped by self-financing much of our renovation
Below:  Operations V. P.  Ilona Richenberg looking at some of the beautiful glass pieces donated by Larry Brown.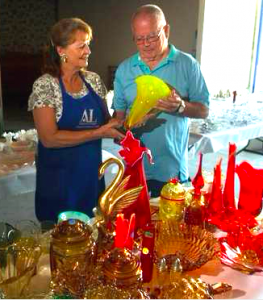 VPs Camilla Wolak and Charlotte West receiving a donation for Operation School Bell from Kohl Open School and Walton Develoement Center.
Operation School ladies accepting  a generous donation from Jessie Garcia of Head Start.
Endowment Fund
In 2011, Assistance League of Stockton was fortunate to receive an unrestricted donation of $5,000 from the Dolores Berlew Trust. Ms. Berlew was a retired teacher who was deeply committed to education and community service. Our membership decided to use Ms. Berlew's donation as 'seed money' for an endowment fund that it might grow and help fund our philanthropic programs far into the future.
We signed a contract with Community Foundation of San Joaquin, which handles non-profit investment funds in January 2012. As of January 2017 the fund had more than tripled due to the generosity of our community.
Should you be interested in donating to our endowment fund, please click on the navigation button "Donate now", or you can make your bequest/donation directly to the Community Foundation of San Joaquin which holds our endowment fund; the mailing address is P. O. Box 286, Stockton, CA 95201.  The checks should be made out to Community Foundation with a memo that your gift is to the Assistance League of Stockton Endowment Fund. Be assured, any financial donations to Assistance League of Stockton will be put to the best use for our all-volunteer, nonprofit organization.