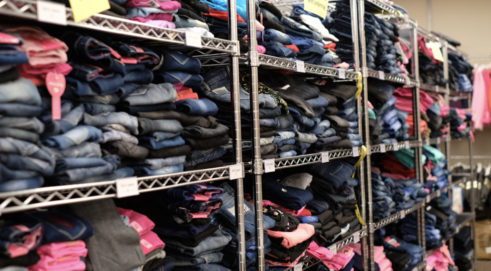 Operation School Bell®
Operation School Bell is the flagship program of Assistance League chapters across the United States. Austin's Operation School Bell provides school-age children in need with a wardrobe of new school clothing, shoes, and toiletries. Between June 1, 2021 and May 31, 2022, ALA clothed 6,858 students, making their days brighter, self-esteem higher, and their ability to learn better because they felt they belonged.
Contact: Shanna Kribbs, Operation School Bell Chair, schoolbell@alaustin.org
Operation Wish List
Operation Wish List was created in 2010 to provide an opportunity each year for faculty and staff of a carefully selected Austin ISD elementary school to submit a Wish List of items for Assistance League of Austin to fulfill. The selected items are to enhance the educational experience for their students. Other PreK or middle schools in the greater Austin community may also receive educational items. Additionally, Operation Wish List provides books for the AISD's Buford, the Book Bus.
Contact: Susie Olson and Jane Traugott, Operation Wish List Chairs, operation_wish_list@alaustin.org
Outreach
Outreach was established 13 years ago to help Assistance League of Austin move quickly to meet a range of community needs on a onetime, short term or annual basis, enabling us to respond in a flexible manner. Outreach serves at-risk children and adults through three initiatives. Our outreach program purchases sofas, tables and chairs, dressers, household goods, beds, and bedding in support of The Resettlement Initiative and Supporting the Underserved. We work in collaboration with Salvation Army Women and Children's Shelter, the Foundation for the Homeless, Texas Refugee Services, Austin Voices for Education and Youth, and the Austin, Manor, and Del Valle ISD. Outreach also provides equipment and through Project Impact.
Contact: Sharon Torrico, Outreach Chair, outreach@alaustin.org
Toy Cart
Toy Cart was the first program established by Assistance League of Austin in 1973 and serves nearly 9,000 children and families annually. We visit hundreds of children hospitalized at Dell Children's Medical Center, four days per week, year-round, bringing books, toys, crafts, games, and magazines. These newly purchased gifts are individually chosen by each patient. Our Toy Cart Studio team spreads extra love and comfort by sewing receiving blankets and burp cloths, crocheting caps, and providing onesies for infants throughout the hospital.
Contact:
Laurie Nelson, Toy Cart Chair, toycart@alaustin.org
Assault Survivor Kits®
Assault Survivor Kits (ASK) program provides support services to child and adolescent assault survivors seen by SANE nurses (Sexual Assault Nurse Examiners). Items provided include stuffed animals, writing journals and new clothing. We serve two Dell Children's Medical Center locations—in the hospital setting where acute sexual assault evaluations take place and at the non-acute sexual abuse clinic.
Contact: Jan Moynahan, Assault Survivor Kits Chair, assault_survivor_kits@alaustin.org
Assistance League Scholarships
Assistance League of Austin members and Community Volunteers advocate for and mentor Austin Community College students to help them excel in their chosen fields. Assistance League of Austin is proud to cover the costs for tuition, fees and books for scholars selected by the Austin Community College Foundation on the basis of need and desire to learn. Students are required to maintain a minimum of six credit hours per semester and a GPA of 2.5. Preference is given to Austin area students who have a strong desire to become productive members of this community and who do not have college experience in their family background.
Contact: Stephanie Dempsey, Scholarships Chair, scholarships@alaustin.org