We are 23,000 members in 120 chapters nationwide focused on making our communities a better place to live.

---
Assistance League in the Community
Our Member Volunteers…The Heart of Assistance League…The Heart of Their Community
February is known for Valentine's Day… a celebration of love for family and friends. Assistance League member volunteers express their love year-round. They, along with our programs, are the heart of Assistance League and the communities served. With loving and giving hearts, our 23,000 member volunteers in 120 chapters across the nation participate in programs focused on basic needs, education and self-esteem. These programs touch the hearts and minds of children and adults who need our help.
Our hearts know no boundaries. Assistance League programs serve those in need, whether they are young, old, students, teachers, homeless, abused, or mentally and physically challenged.
What does this mean to our communities?
Last year, our member volunteers returned $38.8 million to local communities, served 1.5 million people and donated 3.2 million hours of their time.
Through our signature program Operation School Bell®, 331,000 children received new school clothing; health assistance, including hearing, vision and/or dental care; along with literacy, cultural and higher educational enrichment.
How else does Assistance League touch hearts? Here are just a few examples.
Assistance League in the Community
Operation School Bell®
Can you imagine never having a new pair of shoes, only attending school half of the time as you must share your clothes with a sibling or an entire family sharing one toothbrush?  This is happening to 50% of the children in our country.  Operation School Bell, the national program of Assistance League, strives to meet the needs of children across our country.  During the past year, over 331,000 children were reached by the 120 chapters.  Since the program was started in 1958, over 4.3 million school-age children have been served.
Many chapters provide new school clothing, shoes and coats along with other items, including backpacks, books, school supplies and food for the weekend, in their programs.  Another aspect of this program is to provide dental or vision care and personal care kits.  The goals of providing children with these items are raising self-esteem, building confidence in the students and make a tremendous impact in their education.  This program also reduces the teasing and bullying of these students.
Watching the children as they are given new shoes, shop for clothing for the first time or receiving a new backpack is as rewarding to the member as it is for the children.  Whether the chapter provides vouchers, shops with the students in a local store or clothes them in their own facility, the members feel such a bonding with these students.  Operation School Bell takes a huge amount of effort, dedication, funding and manpower, which is willingly given by the members.
Find a Chapter or Thrift Shop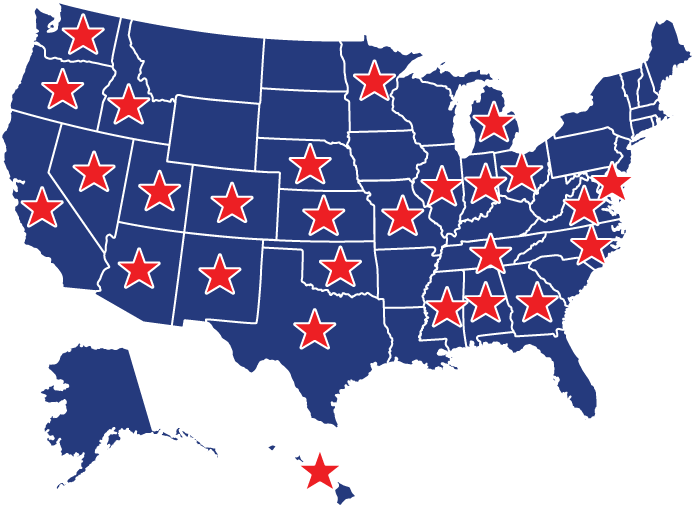 million dollars returned to local communities
million hours of volunteer service
Community Volunteer Spotlight
The Honey-Doers
Assistance League of San Antonio
Do you have a "honey-do" list at your house?  Well, so does Assistance League of San Antonio.  Fortunately, the chapter also has a group of dedicated husbands who work hard at crossing chores off that list, always with good humor and a smile.
The gentlemen work the shift in the Thrift House during the regular meeting which frees members to attend.  They occasionally work other shifts allowing members to attend fundraising events.  There are some regulars – men who come weekly, even daily, and help in the receiving area.  They check out the electronics, appliances and lamps to ensure they are in good working order before they are put into the Thrift House.  They break down cardboard boxes and are the "dumpster monitors".  Recently, one very dedicated Honey-doer showed up daily during a Thrift House renovation and did whatever was asked of him – picking up the trash left by the homeless community, moving bookcases and furniture, taking fixtures apart, putting fixtures together, unhooking electronics and attending to the dumpster duties.  Assistance League of San Antonio is indeed fortunate to have such dedicated Community Volunteers.
Pictured on the right, from left to right:  Leonard Marshall, Wayne Wright, Javier Cerna, Bud Giffin
We Need Your Help
Join us! Become a part of an incredible group of volunteers who are dedicated to making a difference in your community. Assistance League offers unique volunteer opportunities that fit your interest and time.

---