We are 23,000 members in 120 chapters nationwide focused on making our communities a better place to live.

---
Assistance League in the Community
Operation School Bell® – More Than Just Clothing Kids
Yes, Assistance League is known for clothing children so they can go to school dressed liked their classmates. It is said that being dressed like their peers helps children build self-esteem and feel "part of the group." They can stop worrying about what they're wearing and concentrate on learning.
But there are also other ways Assistance League chapters are helping kids stay in school. One, you might say, is helping through the back door—giving monetary aid to teachers for those supplies and "extras" that help teachers reach their students' minds. Some of you reading this may have experienced this yourself. Your classroom needs something to help you with lessons or you would like to try out a new idea, but the school's budget can't cover it. So you personally purchase what you need. That may be okay once in a while but not on a regular basis. And that's where some of our chapters step in to help.
Assistance League of Arcadia's program, "Links to Learning," "provides an opportunity for local school district teachers and non-administrative staff to apply for monetary awards.  These funds enhance and develop new or different approaches to teaching, stimulate creative thought, and expand curriculum enriching students' educational and classroom experiences."
Another chapter with a "Links to Learning" program is Assistance League of Greater Wilmington. Their program is in its fifth year, and they have already contributed over $80,000 to local schools. The awards "enable educators to enrich classroom and extracurricular activities and develop new approaches to learning."
All the big office supply and drug stores across the country are already having sales for "back to school supplies." Remember how much fun it was to line up your newly sharpened pencils and crayons in their boxes; and, the care you took to fill your notebook with dividers and a package of lined paper? Members of Assistance League of Boise work hard to make sure students in need have the new school supplies they require to start the school year. To accomplish this, each spring they have the Ada Country Public Schools fill out special requests for school supplies. Their members purchase the supplies and then, in August, members and volunteers assemble and distribute the supplies to each participating school. It's a large program requiring a large budget. In the 2015-2016 fiscal year, the chapter provided supplies to 96 public schools in Ada County reaching over 12,700 students in need.
Assistance League in the Community
Operation School Bell®
Can you imagine never having a new pair of shoes, only attending school half of the time as you must share your clothes with a sibling or an entire family sharing one toothbrush?  This is happening to 50% of the children in our country.  Operation School Bell, the national program of Assistance League, strives to meet the needs of children across our country.  During the past year, over 331,000 children were reached by the 120 chapters.  Since the program was started in 1958, over 4.3 million school-age children have been served.
Many chapters provide new school clothing, shoes and coats along with other items, including backpacks, books, school supplies and food for the weekend, in their programs.  Another aspect of this program is to provide dental or vision care and personal care kits.  The goals of providing children with these items are raising self-esteem, building confidence in the students and make a tremendous impact in their education.  This program also reduces the teasing and bullying of these students.
Watching the children as they are given new shoes, shop for clothing for the first time or receiving a new backpack is as rewarding to the member as it is for the children.  Whether the chapter provides vouchers, shops with the students in a local store or clothes them in their own facility, the members feel such a bonding with these students.  Operation School Bell takes a huge amount of effort, dedication, funding and manpower, which is willingly given by the members.
Find a Chapter or Thrift Shop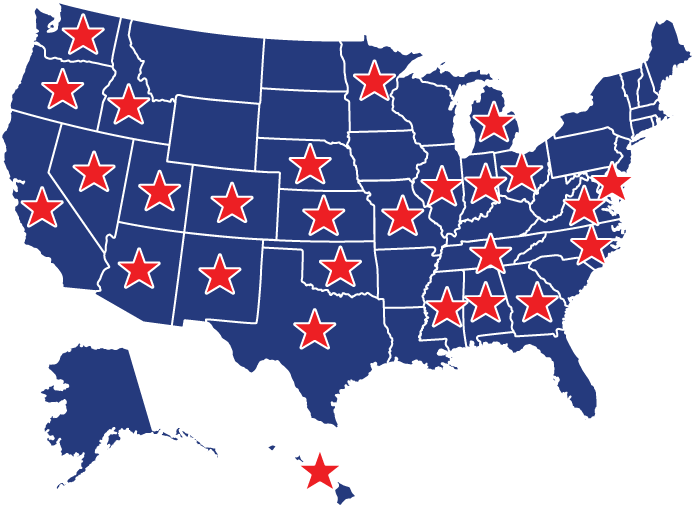 million dollars returned to local communities
million hours of volunteer service
HISTORY OF ASSISTEENS®
Assisteens is the youth auxiliary of Assistance League chapters.  Assisteens provides volunteer opportunities for young people in grades 7 through 12.  The goals are to develop a sense of community responsibility, self-reliance, personal responsibility, poise, public speaking, leadership skills and to support the chapter.  Assisteens raise money in a variety of ways to fund ongoing Assistance League and Assisteens philanthropic programs that benefit their community.
Assistance League was founded in 1919 by Anne (Mrs. Hancock) Banning and her friends, based on an informal charity in Los Angeles started in about 1894.  In the 1890s, social events raised money for local charitable giving. Assistance League, with Anne Banning and Ada Edwards (Mrs. Homer II) Laughlin and friends, provided money and clothing for the 1906 San Francisco earthquake and fire victims.  When the war started in Europe in 1914, Anne and her friends worked for the Red Cross and, in 1917, set up the Red Cross Shop that raised $150,000 in one year.  After the war ended in 1918, the ladies wanted to continue working together, helping people in need.
In 1919, Assistance League was formally organized, with Good Samaritan providing aid to returning veterans and their families and the Film Location Bureau raising the needed funds by renting private properties to movie companies.  Founding members were prominent women of Los Angeles of all faiths and political views.  In 1923, Assistance League moved to DeLongpre Avenue in Hollywood where the campus of Founder Chapter (Assistance League of Southern California) remains today. The motto was "All For Service and Service For All."  Anne Banning felt that women worked best in like-minded groups, so auxiliaries were formed.  Day Nursery was added in 1924, followed by Girls' Club, Theatre for Children, Toy Loan and Boys' Club. Junior Auxiliary was formed in 1929 for post-college-aged young women.
We Need Your Help
Join us! Become a part of an incredible group of volunteers who are dedicated to making a difference in your community. Assistance League offers unique volunteer opportunities that fit your interest and time.

---