We are 23,000 members in 120 chapters nationwide focused on making our communities a better place to live.

---
Assistance League in the Community
Child Hunger – What Can We Do?
Some Assistance League chapters are reaching out to help alleviate this need. Assistance League of Northern Virginia started a program in 2010 called "Weekend Food for Kids" that provides nutritional food for children to eat over the weekend. It started serving one school and now has grown to five Title I schools in Northern Virginia. Once a month, using members and community volunteers, they meet for two hours and pack 1,500 individual food bags for the children. Each bag includes cereal, canned fruit, granola bars, pudding, cheese crackers, noodles and canned meat at a cost of about $4 per bag. During the 2013-14 school year, they provided 14,514 bags of food to hungry children!
Since 2012, Assistance League of Minneapolis has been gathering every Thursday to pack nutritious, nonperishable food in backpacks to feed the families of students over the weekend. There is enough food to provide three dinners, two lunches and breakfast for their families. Once filled, the backpacks are delivered to the school–over 800 pounds of food a week. A news clip is available on their website where Sharon Hicks and Lori Schmeling show a packing day in action. http://msp.assistanceleague.org/what-we-do/
Other chapters have been addressing the problem of hunger for a long time. Assistance League of Charlotte has been providing after school snacks since 1993 through Operation Check Hunger. This program fulfilled a need for quite some time, but increasing governmental programs and requirements have caused the Charlotte chapter to reevaluate whether that need has been met and if there are other, more pressing needs where they should focus. Grace Bednaricek, Vice President Philanthropic Programs of the Charlotte chapter said, "There are different dynamics that come into play. We have to be aware of changes in the community and be able to respond to those changes and needs." In response to their assessment, the chapter has suspended the after school treat program in all but one special-needs school, and has begun to work with their local food bank in stuffing 300 backpacks once a month to be delivered by the Food Bank to area schools. The Charlotte chapter buys the food, fills the backpacks with enough food to feed a family of four and the food bank delivers the backpacks to be taken home by the children.
In 2014, Assistance League of Eugene saw the need and began a Weekend Food Pantry Program in one school where 87% of the children receive free or reduced price lunches. A group of about 30 enthusiastic committee members run the program. Each month, one member is responsible for ordering food in bulk from the Fred Meyer stores. The stores obtain and box the ordered items. The items are picked up by members, taken to the schools and set up in the Food Coordinator's office. The Food Coordinator at the schools has identified which families are most in need. When the families come to pick up their children on Friday afternoons, they go to the office and "shop" for enough food for the weekend. These families are very considerate of the other families and do not take too much. Committee members are there to set up, meet and greet and clean up afterward. Knowing the need to obtain data for evaluation and grant purposes, Assistance League of Eugene sent out a survey, asking if the parents found the service valuable, if the food was appropriate and sufficient, and whether the families felt welcome. The response was overwhelmingly positive in all areas. Comments, such as, "The food is perfect," "Such a blessing," abounded. With these facts in mind, the program has grown from 30 families to 50 families for the coming year. Donna Perry, the co-chairman of the program commented, "Everyone should be aware of hunger in their community. I was shocked that 25% of the students in Oregon go to school hungry at least one day a week." Assistance League of Eugene's program will be one of the ten philanthropic programs featured this year at the Friday afternoon Philanthropic Programs session at National Conference.
Assistance League of Amador Valley has Food for Families, where they donate to and work through local food pantries. Assistance League of Tucson auxiliary, PAWS (Professional Association of Women's Services), provides nutritious snacks for children taken to the Southern Arizona Child Advocacy Center. Assistance League of Diablo Valley donates 300 food boxes for families on CalWORKS; they pack the food five times a year. Assistance League of Reno-Sparks and Assistance League of Los Gatos-Saratoga provide meals for seniors.
According to NoKidHungry.org, children who struggle with hunger are likely to be sick more often and recover more slowly. They are more susceptible to obesity. Lack of enough healthy food can impair a child's ability to concentrate and perform well in school. According to Harvard School Breakfast Research Summary, children who regularly do not get enough nutritious food to eat tend to have significantly higher levels of behavioral, academic and emotional problems and tend to be more aggressive and anxious.
Assistance League chapters are doing what they can to alleviate hunger and the problems it creates. Kudos to all chapters who are making a difference in the lives of many families!
Assistance League in the Community
Operation School Bell®
Can you imagine never having a new pair of shoes, only attending school half of the time as you must share your clothes with a sibling or an entire family sharing one toothbrush?  This is happening to 50% of the children in our country.  Operation School Bell, the national program of Assistance League, strives to meet the needs of children across our country.  During the past year, over 331,000 children were reached by the 120 chapters.  Since the program was started in 1958, over 4.3 million school-age children have been served.
Many chapters provide new school clothing, shoes and coats along with other items, including backpacks, books, school supplies and food for the weekend, in their programs.  Another aspect of this program is to provide dental or vision care and personal care kits.  The goals of providing children with these items are raising self-esteem, building confidence in the students and make a tremendous impact in their education.  This program also reduces the teasing and bullying of these students.
Watching the children as they are given new shoes, shop for clothing for the first time or receiving a new backpack is as rewarding to the member as it is for the children.  Whether the chapter provides vouchers, shops with the students in a local store or clothes them in their own facility, the members feel such a bonding with these students.  Operation School Bell takes a huge amount of effort, dedication, funding and manpower, which is willingly given by the members.
Find a Chapter or Thrift Shop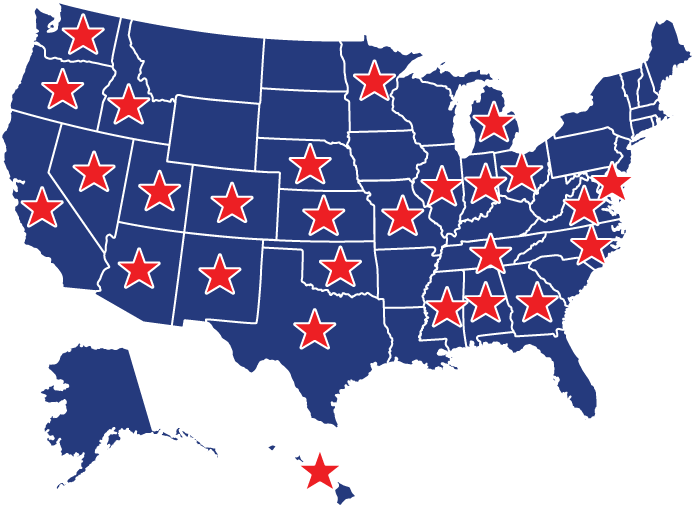 million dollars returned to local communities
million hours of volunteer service
Community Volunteer Spotlight
The Honey-Doers
Assistance League of San Antonio
Do you have a "honey-do" list at your house?  Well, so does Assistance League of San Antonio.  Fortunately, the chapter also has a group of dedicated husbands who work hard at crossing chores off that list, always with good humor and a smile.
The gentlemen work the shift in the Thrift House during the regular meeting which frees members to attend.  They occasionally work other shifts allowing members to attend fundraising events.  There are some regulars – men who come weekly, even daily, and help in the receiving area.  They check out the electronics, appliances and lamps to ensure they are in good working order before they are put into the Thrift House.  They break down cardboard boxes and are the "dumpster monitors".  Recently, one very dedicated Honey-doer showed up daily during a Thrift House renovation and did whatever was asked of him – picking up the trash left by the homeless community, moving bookcases and furniture, taking fixtures apart, putting fixtures together, unhooking electronics and attending to the dumpster duties.  Assistance League of San Antonio is indeed fortunate to have such dedicated Community Volunteers.
Pictured on the right, from left to right:  Leonard Marshall, Wayne Wright, Javier Cerna, Bud Giffin
We Need Your Help
Join us! Become a part of an incredible group of volunteers who are dedicated to making a difference in your community. Assistance League offers unique volunteer opportunities that fit your interest and time.

---