We are 22,000 members in 120 chapters nationwide focused on making our communities a better place to live.  See us in action.
Transforming Lives • Strengthening Community

---
Assistance League in the Community
Raising Funds to Provide Community Programs
Assistance League members are busy getting their fundraisers organized for the upcoming year to support their many programs.
Assistance League chapters are all-volunteer organizations that develop and implement programs to make huge differences in the lives of the their local communities.  Their programs provide services in their communities for needs not covered by anyone else.
To fund these philanthropic programs, the chapters raise their  funds in many creative ways. They write grants; manage and run thrift shops or consignment shops; host galas, luncheons, fashion shows, home tours; and even mail out tea bags for phantom teas. All of these events take a tremendous amount of planning and hard work and once each event is over, there is usually another in the works.
Assistance League of San Pedro – South Bay has been operating a contract Post Office for the 48 years plus. It's the only all-volunteer Post Office in the United States. The money that would be paid to postal workers instead is used to support chapter programs like their Dental Clinic.
Assistance  League of San Antonio hosts an annual event called Lit 'n Lunch incorporating a well-known Texas author as the keynote speaker.  Last year, author Dr.  June Scobee Rodgers, wife of  astronaut  Dick Scobee, pilot of the Challenger Flight, spoke about the challenges youth face today.  This was a very well attended and lucrative fundraiser.
"Aspire Cincinnati " took place at the end of last March.   It is  Assistance League of Greater Cincinnati's annual event honoring someone in the Greater Cincinnati community who has made a significant contribution to the betterment of their community. In 2018, the award was presented to Heidi Jack, senior Vice President and managing director of the foundation office at Fifth Third Bank.  Bruce Krone, President, Secretary and Director of the Board of Directors of the Charles H. Dater Foundation received a beautiful plaque in recognition of the generous and consistent support of Operation School Bell®. Three thousand eight hundred children from local schools received school clothes this past year.
Whether members are helping a child find the perfect jacket, sitting and spending time with a senior, creating opportunity baskets for an event, Assistance League members put so much of their heart and time to help in their communities.  It is totally about making a difference! As our tagline says – Transforming Lives • Strengthening Community… our dedicated member volunteers do this everyday in our 120 chapters nationwide.
Find a Chapter or Thrift Shop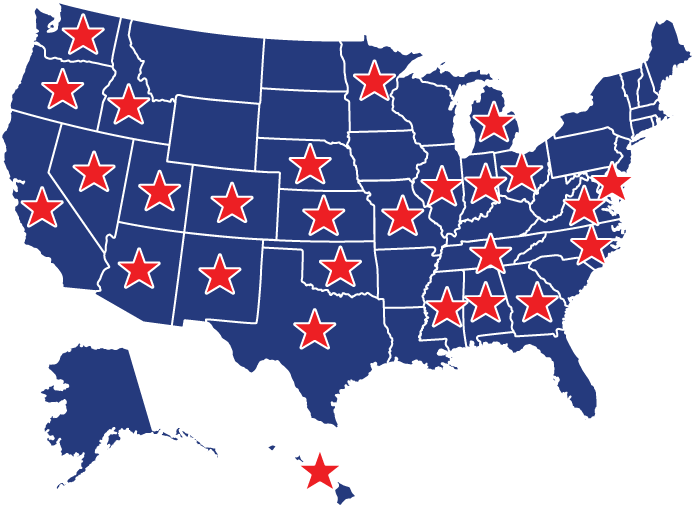 million dollars returned to local communities
million hours of volunteer service
HISTORY OF ASSISTEENS®
Assisteens is the youth auxiliary of Assistance League chapters.  Assisteens provides volunteer opportunities for young people in grades 7 through 12.  The goals are to develop a sense of community responsibility, self-reliance, personal responsibility, poise, public speaking, leadership skills and to support the chapter.  Assisteens raise money in a variety of ways to fund ongoing Assistance League and Assisteens philanthropic programs that benefit their community.
Assistance League was founded in 1919 by Anne (Mrs. Hancock) Banning and her friends, based on an informal charity in Los Angeles started in about 1894.  In the 1890s, social events raised money for local charitable giving. Assistance League, with Anne Banning and Ada Edwards (Mrs. Homer II) Laughlin and friends, provided money and clothing for the 1906 San Francisco earthquake and fire victims.  When the war started in Europe in 1914, Anne and her friends worked for the Red Cross and, in 1917, set up the Red Cross Shop that raised $150,000 in one year.  After the war ended in 1918, the ladies wanted to continue working together, helping people in need.
In 1919, Assistance League was formally organized, with Good Samaritan providing aid to returning veterans and their families and the Film Location Bureau raising the needed funds by renting private properties to movie companies.  Founding members were prominent women of Los Angeles of all faiths and political views.  In 1923, Assistance League moved to DeLongpre Avenue in Hollywood where the campus of Founder Chapter (Assistance League of Southern California) remains today. The motto was "All For Service and Service For All."  Anne Banning felt that women worked best in like-minded groups, so auxiliaries were formed.  Day Nursery was added in 1924, followed by Girls' Club, Theatre for Children, Toy Loan and Boys' Club. Junior Auxiliary was formed in 1929 for post-college-aged young women.
We Need Your Help
Join us! Become a part of an incredible group of volunteers who are dedicated to making a difference in your community. Assistance League offers unique volunteer opportunities that fit your interest and time.

---