We are 23,000 members in 120 chapters nationwide focused on making our communities a better place to live.

---
Assistance League in the Community
Helping At Risk Moms Succeed So Families Flourish
During the month of May, we honor and celebrate mothers and all women who nurture the special people in their lives with maternal love and support.  For many families, Mother's Day is a joyful spring tradition. For others, it's just another day, but one that is full of promise for families on the receiving end of several Assistance League programs that aid, encourage and help educate moms so that they can give their children a brighter tomorrow.
Providing a Good Beginning for First-time At Risk Moms
Assistance League of Los Gatos-Saratoga is committed to breaking the cycle of hopelessness for young at risk moms by supporting The Nurse Family Partnership Program (NFP) in Santa Clara County, part of a federal program that connects first-time moms from low income backgrounds with specially trained public health nurses, who provide support beginning in pregnancy until the child turns two years old.
Under The Family Program, the Los Gatos-Saratoga chapter provides essential baby items that would be beyond the reach of moms-to-be with very little financial or family support. The program includes different events throughout the year that engage members and benefit recipients, including a very special opportunity that brings both together for a one day shopping event called "The Store".  Eligible moms can exchange points earned under the NFP program for gently used clothing, books, strollers, cribs, baby gates, diapers, wipes, nursing supplies, etc., that have been donated, collected and sorted by members throughout the year.
Members also hold an annual baby shower that benefits moms in the program, and fulfill holiday wish lists at a winter luncheon so moms have brightly wrapped gifts for their little ones.
"The nurses attend the holiday luncheon and tell heartwarming stories about the effect these gifts have on their clients," noted Barbara Weber, Vice President of Philanthropic Programs.
Showering Military Moms with Good Wishes and Layettes
Assistance League of Palm Springs Desert Area hosts an annual baby shower luncheon for first time expectant moms stationed at the Twentynine Palms Marine Corps Base. Members and friends honor their guests, enjoy one-on-one conversation, offer parenting tips and help them out by providing a complete layette, portable crib and other essentials.
"This is really worthwhile," said longtime member Maria Koenig. "It's amazing how grateful the military moms are. Everything we give them is so nice and new."
Promoting Good New Nutrition at Home
Assistance League of Chicagoland West's New Start program collaborates with local social service agencies on a year-round basis to shower families transitioning from homelessness or shelter living to independent housing with everything needed to stock a kitchen, including dinnerware, flatware, cookware, bakeware, cleaning supplies and two small appliances.
Recipients are primarily single moms who are surprised by the completeness of the kitchen donations and, in their words, "feel valued and happy that others think they are worth a new beginning." The kitchenware does more than help provide nutritious meals; it helps rebuild lives, strengthen families and relieve budgetary stress.
Continuing Education for Moms
Though a collaboration with Project Self Sufficiency, Assistance League of Huntington Beach provides scholarships for single moms who are working their way out of abusive relationships and homelessness to becoming self-supporting parents through higher education.
Thanks to these programs and others, moms of all ages can transform their lives and the lives of their children through compassionate assistance, education and the knowledge that they're not alone in their journey to succeed.  That's a gift worth celebrating on Mother's Day and every day.
Assistance League in the Community
Operation School Bell®
Can you imagine never having a new pair of shoes, only attending school half of the time as you must share your clothes with a sibling or an entire family sharing one toothbrush?  This is happening to 50% of the children in our country.  Operation School Bell, the national program of Assistance League, strives to meet the needs of children across our country.  During the past year, over 331,000 children were reached by the 120 chapters.  Since the program was started in 1958, over 4.3 million school-age children have been served.
Many chapters provide new school clothing, shoes and coats along with other items, including backpacks, books, school supplies and food for the weekend, in their programs.  Another aspect of this program is to provide dental or vision care and personal care kits.  The goals of providing children with these items are raising self-esteem, building confidence in the students and make a tremendous impact in their education.  This program also reduces the teasing and bullying of these students.
Watching the children as they are given new shoes, shop for clothing for the first time or receiving a new backpack is as rewarding to the member as it is for the children.  Whether the chapter provides vouchers, shops with the students in a local store or clothes them in their own facility, the members feel such a bonding with these students.  Operation School Bell takes a huge amount of effort, dedication, funding and manpower, which is willingly given by the members.
Find a Chapter or Thrift Shop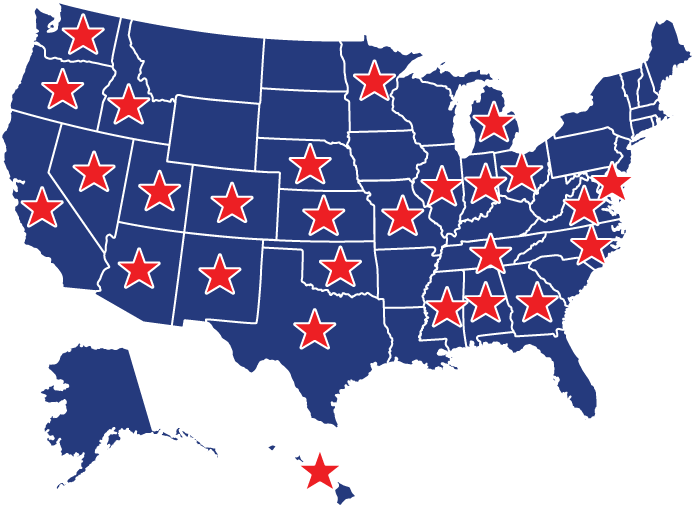 million dollars returned to local communities
million hours of volunteer service
Community Volunteer Spotlight
The Honey-Doers
Assistance League of San Antonio
Do you have a "honey-do" list at your house?  Well, so does Assistance League of San Antonio.  Fortunately, the chapter also has a group of dedicated husbands who work hard at crossing chores off that list, always with good humor and a smile.
The gentlemen work the shift in the Thrift House during the regular meeting which frees members to attend.  They occasionally work other shifts allowing members to attend fundraising events.  There are some regulars – men who come weekly, even daily, and help in the receiving area.  They check out the electronics, appliances and lamps to ensure they are in good working order before they are put into the Thrift House.  They break down cardboard boxes and are the "dumpster monitors".  Recently, one very dedicated Honey-doer showed up daily during a Thrift House renovation and did whatever was asked of him – picking up the trash left by the homeless community, moving bookcases and furniture, taking fixtures apart, putting fixtures together, unhooking electronics and attending to the dumpster duties.  Assistance League of San Antonio is indeed fortunate to have such dedicated Community Volunteers.
Pictured on the right, from left to right:  Leonard Marshall, Wayne Wright, Javier Cerna, Bud Giffin
We Need Your Help
Join us! Become a part of an incredible group of volunteers who are dedicated to making a difference in your community. Assistance League offers unique volunteer opportunities that fit your interest and time.

---