We are 23,000 members in 120 chapters nationwide focused on making our communities a better place to live.

---
Assistance League in the Community
Make A Difference Day 2016
Help Promote Childhood Literacy by Donating Books to Your Local Assistance League Chapter
Make A Difference Day, the largest national day of community service, has served as a springboard for Assistance League's Legacy of Literacy.
The annual children's book drive, started in 2012, has been implemented in many different ways across the country, thanks to the enthusiasm and creative efforts of our member volunteers and generous book donations from local residents, businesses, churches, scouts and youth groups.
Assistance League's goal for Make A Difference Day 2016 on October 22 is to collect and donate over 105,000 books, bringing the overall total to 500,000 books in five years.
"We understand how important it is for all children to have access to books," said the Victor Valley chapter in a written statement.  "Our hope is that we help promote a love of reading and discovering."
Third-grade students receiving books last year in Cincinnati schools expressed in writing, "Why reading makes me happy."
"I love reading because, when I read any kind of book, words dance in my head."
 "Reading makes me happy because it gives me courage to read other books which get in my mind."
 "What I like about books is that they have more than just pictures and colors. They have words that make me feel like I'm in my little world."
 School classrooms, libraries and learning centers are not the only book recipients.
Chapters seek places within their own communities where books can provide comfort for youngsters in distress, including pediatric trauma centers, hospitals and health or dental clinics, foster care centers, homeless shelters and family crisis centers.
Books have also been donated to local Boys and Girls Clubs, Head Start programs, teen parenting programs and grandparent resource centers.  In Flagstaff, AZ, Assistance League stocked a Native American library. The Greeley, CO, chapter increased the library of a private academy in its second year of operation.
In Southern California, Assistance League of Temecula Valley responded to the needs of the local school district by donating funds for educational apps to be used with classroom iPads. District officials commended the chapter for its "out of the box" Make A Difference Day thinking.
Make A Difference Day is an initiative of TEGNA Inc., and Gannett Co., Inc., in collaboration with Points of Light and Newman's Own, Inc. To donate books prior to October 22, contact your local Assistance League chapter.
Assistance League in the Community
Operation School Bell®
Can you imagine never having a new pair of shoes, only attending school half of the time as you must share your clothes with a sibling or an entire family sharing one toothbrush?  This is happening to 50% of the children in our country.  Operation School Bell, the national program of Assistance League, strives to meet the needs of children across our country.  During the past year, over 331,000 children were reached by the 120 chapters.  Since the program was started in 1958, over 4.3 million school-age children have been served.
Many chapters provide new school clothing, shoes and coats along with other items, including backpacks, books, school supplies and food for the weekend, in their programs.  Another aspect of this program is to provide dental or vision care and personal care kits.  The goals of providing children with these items are raising self-esteem, building confidence in the students and make a tremendous impact in their education.  This program also reduces the teasing and bullying of these students.
Watching the children as they are given new shoes, shop for clothing for the first time or receiving a new backpack is as rewarding to the member as it is for the children.  Whether the chapter provides vouchers, shops with the students in a local store or clothes them in their own facility, the members feel such a bonding with these students.  Operation School Bell takes a huge amount of effort, dedication, funding and manpower, which is willingly given by the members.
Find a Chapter or Thrift Shop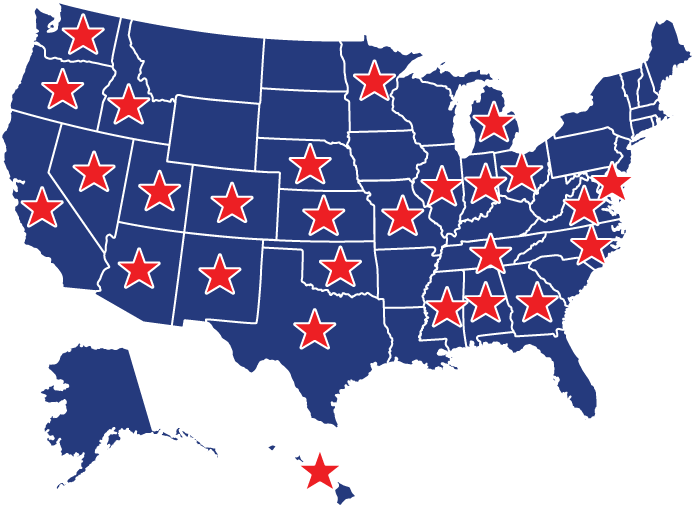 million dollars returned to local communities
million hours of volunteer service
Community Volunteer Spotlight
Meet Kathy Baskerville
Volunteer from Assistance League of Salem-Keizer
How does a career as a crime scene cleaner, a bachelors degree in psychology, and experience working on a crisis hotline all combine to make the perfect community volunteer at a furniture store?  Just ask Kathy Baskerville, who volunteers 12 hours per month at Assistance League of Salem-Keizer's Encore Furniture Store.  When Kathy came in to shop for furnishings a few years ago and learned that one of the chapter's programs helps young adult foster children set up their first household, she immediately wanted to help- and knew she could.  Her skills all came together to give her the volunteer job she loves- working with furniture and décor, keeping things very clean and knowing how to listen to customers.
Kathy feels that her contribution helps provide the kind of helping hand she wishes she had received when she was a foster child in Portland during her youth.  Sometimes everything comes together for just the right reasons!
We Need Your Help
Join us! Become a part of an incredible group of volunteers who are dedicated to making a difference in your community. Assistance League offers unique volunteer opportunities that fit your interest and time.

---