We are 23,000 members in 120 chapters nationwide focused on making our communities a better place to live.

---
Assistance League in the Community
Building Bridges to a Better Tomorrow…One Program at a Time
Preparations are underway for the Assistance League National Conference in September, a much-anticipated event that unites members from across the country in San Francisco for four days of networking, education and sharing information. Appropriately themed Building bridges to a brighter tomorrow…one program at a time, this year's conference takes place near the iconic Golden Gate Bridge, a symbolic image for the work accomplished by Assistance League chapters on a daily basis.
Improving the quality of life for children and adults for over 80 years, Assistance League has a respected reputation as a bridge builder—an organization that seeks and promotes relationships with individuals, businesses and public and private organizations that share a common interest in helping others.
Nowhere is this more evident than with Assistance League's signature program, Operation School Bell®. Our member volunteers have been helping children succeed in school for twenty years by providing new school clothing; health assistance; supplemental meals; literacy; and, cultural and higher educational enrichment.
To accomplish these goals, many chapters work with retail giants like Target, Kohl's, Fred Meyers and others, to maximize their spending dollars.  Some chapters hold in-store events that allow students to shop for clothing without feeling the stigma of being in need. Also, dental and other professionals offer their time and expertise at reduced or no cost to help children.
While most collaborations happen behind the scenes, there are high profile cases that elevate Assistance League to an enviable stature within local communities. In Phoenix, AZ, an Operation School Bell Delivering Dreams Bus was funded by and co-branded with the Arizona Diamondbacks baseball team, thrilling children who step aboard to try on new clothing and shoes.
In Albuquerque, NM, the local CBS TV station KRQE, impressed by Assistance League's work locally, sought out a partnership with the chapter and Payless Shoe Source to provide new shoes to every student in selected Title I Elementary Schools. The Shoe Drive has benefited countless children and garnered outstanding media attention.
In Huntington Beach, CA, the chapter's committed membership in the local Chambers of Commerce has opened doors to valuable sponsorships and advisory council members, increased chapter visibility and public awareness, and has provided other benefits that come from being a member of the greater community.
Other chapters have built bridges to literacy by partnering with Barnes and Noble for in-store book drives and/or through corporate donations. Chapters also connect with local school districts and social service agencies to facilitate Assistance League programs that benefit students and families.
Every chapter works under the Assistance League umbrella to bridge the great divide that exists between people in need and members who are positioned to help.  Building Bridges to a Better Tomorrow…One Program at a Time, is a promise and a reality.
Assistance League in the Community
Operation School Bell®
Can you imagine never having a new pair of shoes, only attending school half of the time as you must share your clothes with a sibling or an entire family sharing one toothbrush?  This is happening to 50% of the children in our country.  Operation School Bell, the national program of Assistance League, strives to meet the needs of children across our country.  During the past year, over 331,000 children were reached by the 120 chapters.  Since the program was started in 1958, over 4.3 million school-age children have been served.
Many chapters provide new school clothing, shoes and coats along with other items, including backpacks, books, school supplies and food for the weekend, in their programs.  Another aspect of this program is to provide dental or vision care and personal care kits.  The goals of providing children with these items are raising self-esteem, building confidence in the students and make a tremendous impact in their education.  This program also reduces the teasing and bullying of these students.
Watching the children as they are given new shoes, shop for clothing for the first time or receiving a new backpack is as rewarding to the member as it is for the children.  Whether the chapter provides vouchers, shops with the students in a local store or clothes them in their own facility, the members feel such a bonding with these students.  Operation School Bell takes a huge amount of effort, dedication, funding and manpower, which is willingly given by the members.
Find a Chapter or Thrift Shop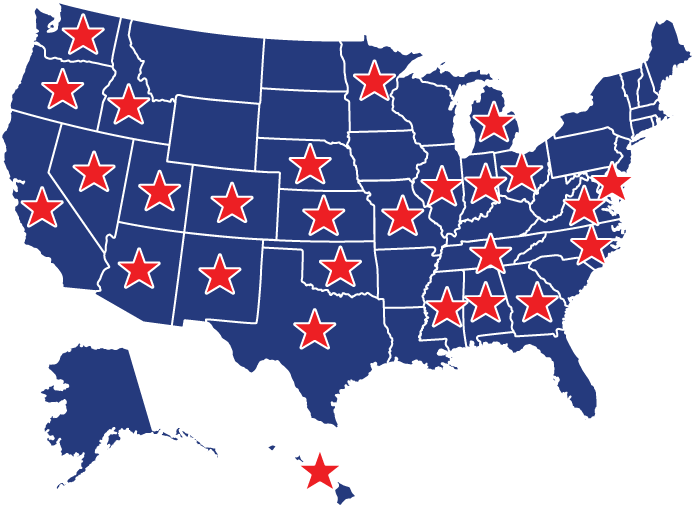 million dollars returned to local communities
million hours of volunteer service
Community Volunteer Spotlight
The Honey-Doers
Assistance League of San Antonio
Do you have a "honey-do" list at your house?  Well, so does Assistance League of San Antonio.  Fortunately, the chapter also has a group of dedicated husbands who work hard at crossing chores off that list, always with good humor and a smile.
The gentlemen work the shift in the Thrift House during the regular meeting which frees members to attend.  They occasionally work other shifts allowing members to attend fundraising events.  There are some regulars – men who come weekly, even daily, and help in the receiving area.  They check out the electronics, appliances and lamps to ensure they are in good working order before they are put into the Thrift House.  They break down cardboard boxes and are the "dumpster monitors".  Recently, one very dedicated Honey-doer showed up daily during a Thrift House renovation and did whatever was asked of him – picking up the trash left by the homeless community, moving bookcases and furniture, taking fixtures apart, putting fixtures together, unhooking electronics and attending to the dumpster duties.  Assistance League of San Antonio is indeed fortunate to have such dedicated Community Volunteers.
Pictured on the right, from left to right:  Leonard Marshall, Wayne Wright, Javier Cerna, Bud Giffin
We Need Your Help
Join us! Become a part of an incredible group of volunteers who are dedicated to making a difference in your community. Assistance League offers unique volunteer opportunities that fit your interest and time.

---