We are 23,000 members in 120 chapters nationwide focused on making our communities a better place to live.
Transforming Lives • Strengthening Community

---
Assistance League in the Community
IT'S RAINING BOOKS
As the saying goes, April showers bring May flowers. Imagine what our Legacy of Literacy event will bring with the shower of books on children. Perhaps they will bloom into enthusiastic readers!
Recently, Assistance League chapters held special events centered around literacy during our Legacy of Literacy event. With over 80% of our chapters participating in a multitude of ways, we collected more than 100,000 books and delivered them to children in our communities.With many strong and creative chapters, it is always interesting to see the different ways we each transform lives and strengthen communities.
The Houston chapter celebrated this special day by getting involved in a community event aimed at recruiting children for a Head Start program. It was a fun-packed Saturday morning with games, prizes, arts and crafts, face painting and book-reading sessions. Member volunteers gave the children books to take home.
"We have hundreds of books to give away to help increase literacy in the community and give children access to a home library," Venetia Peacock, the director of the county's Department of Education's Head Start program told the parents. "We know when children have books in their homes and more access to books, they are more likely to read or be read to."
The Fresno chapter chose another approach with great success. They are in the process of donating new books to one school from each of their local school districts. For their first school visit, Kimi Shehadey, member in charge of the event, arranged for a local news station and publication to be present when the books were distributed.
Having experienced first-hand the children's joy and excitement of getting new books for their library, Kim was overwhelmed.  "Finally making it to my car, I could not hold back my tears any longer. I believe books are a way out for a lot of these kids and I could not wait to come back and enjoy reading with them. That evening I watched the news and could not be any happier with the way it turned out. They filmed it just as I asked and even used the closing lines I wrote; most importantly, I had asked that this segment be shown at the end of the program. This way people could hear about happiness and giving and how the books from Assistance League made the day for a lot of kids. I do not know who had a better day, the kids or me."
As in all Assistance League's philanthropic works, it is not just the recipients who bloom as a result of giving of our time and talents—it is us, the givers, as well.
Find a Chapter or Thrift Shop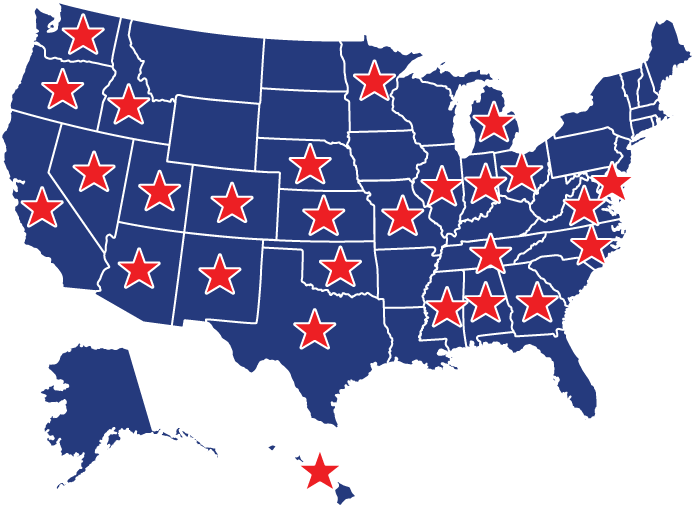 million dollars returned to local communities
million hours of volunteer service
HISTORY OF ASSISTEENS®
Assisteens is the youth auxiliary of Assistance League chapters.  Assisteens provides volunteer opportunities for young people in grades 7 through 12.  The goals are to develop a sense of community responsibility, self-reliance, personal responsibility, poise, public speaking, leadership skills and to support the chapter.  Assisteens raise money in a variety of ways to fund ongoing Assistance League and Assisteens philanthropic programs that benefit their community.
Assistance League was founded in 1919 by Anne (Mrs. Hancock) Banning and her friends, based on an informal charity in Los Angeles started in about 1894.  In the 1890s, social events raised money for local charitable giving. Assistance League, with Anne Banning and Ada Edwards (Mrs. Homer II) Laughlin and friends, provided money and clothing for the 1906 San Francisco earthquake and fire victims.  When the war started in Europe in 1914, Anne and her friends worked for the Red Cross and, in 1917, set up the Red Cross Shop that raised $150,000 in one year.  After the war ended in 1918, the ladies wanted to continue working together, helping people in need.
In 1919, Assistance League was formally organized, with Good Samaritan providing aid to returning veterans and their families and the Film Location Bureau raising the needed funds by renting private properties to movie companies.  Founding members were prominent women of Los Angeles of all faiths and political views.  In 1923, Assistance League moved to DeLongpre Avenue in Hollywood where the campus of Founder Chapter (Assistance League of Southern California) remains today. The motto was "All For Service and Service For All."  Anne Banning felt that women worked best in like-minded groups, so auxiliaries were formed.  Day Nursery was added in 1924, followed by Girls' Club, Theatre for Children, Toy Loan and Boys' Club. Junior Auxiliary was formed in 1929 for post-college-aged young women.
We Need Your Help
Join us! Become a part of an incredible group of volunteers who are dedicated to making a difference in your community. Assistance League offers unique volunteer opportunities that fit your interest and time.

---