We are 23,000 members in 120 chapters nationwide focused on making our communities a better place to live.

---
Assistance League in the Community
Assistance League National Conference Overflowing with Inspiration and Information
Approximately 800 member volunteers convened at the Hilton Anatole, Dallas, Texas, in September for the 2016 Assistance League National Conference, themed The Power of Change, Navigating Change and Driving Growth.
Some chapters had one person in attendance, while others, such as nearby San Antonio, had as many as 30, but all agreed that the conference exceeded expectations with the unveiling of a new national marketing plan. Those in attendance returned to their home chapters with hearts full of inspiration and minds brimming with valuable information.
Keynote speaker Andy Goodman, a nationally recognized author, speaker and consultant in the field of public interest communication, kicked off the conference with an engaging presentation on the value of stories and challenged each member to develop a powerful personal story about the impact of Assistance League.
"People can be numbed by numbers," Goodman said, "but stories are stored."  Founder of The Goodman Center in Los Angeles, he concluded by reminding the audience that "nobody ever marched on Washington because of a pie chart."
Closing keynote speaker Aimee Runyon, CEO of Phoenix-based NotMYkid, highlighted the strengths of Assistance League before unveiling the comprehensive marketing plan, created by Farr Marketing Group of Los Angeles. The focus of the plan is to maximize nationwide awareness through consistent branding, national publicity and social media.
Conference participants attended three days of motivational and engaging sessions on all aspects of Assistance League programs and operations, networked with their peers and celebrated The Power of Change at a Texas-style dinner, fashionably dressed in cowboy hats and denim.
Assistance League in the Community
Operation School Bell®
Can you imagine never having a new pair of shoes, only attending school half of the time as you must share your clothes with a sibling or an entire family sharing one toothbrush?  This is happening to 50% of the children in our country.  Operation School Bell, the national program of Assistance League, strives to meet the needs of children across our country.  During the past year, over 331,000 children were reached by the 120 chapters.  Since the program was started in 1958, over 4.3 million school-age children have been served.
Many chapters provide new school clothing, shoes and coats along with other items, including backpacks, books, school supplies and food for the weekend, in their programs.  Another aspect of this program is to provide dental or vision care and personal care kits.  The goals of providing children with these items are raising self-esteem, building confidence in the students and make a tremendous impact in their education.  This program also reduces the teasing and bullying of these students.
Watching the children as they are given new shoes, shop for clothing for the first time or receiving a new backpack is as rewarding to the member as it is for the children.  Whether the chapter provides vouchers, shops with the students in a local store or clothes them in their own facility, the members feel such a bonding with these students.  Operation School Bell takes a huge amount of effort, dedication, funding and manpower, which is willingly given by the members.
Find a Chapter or Thrift Shop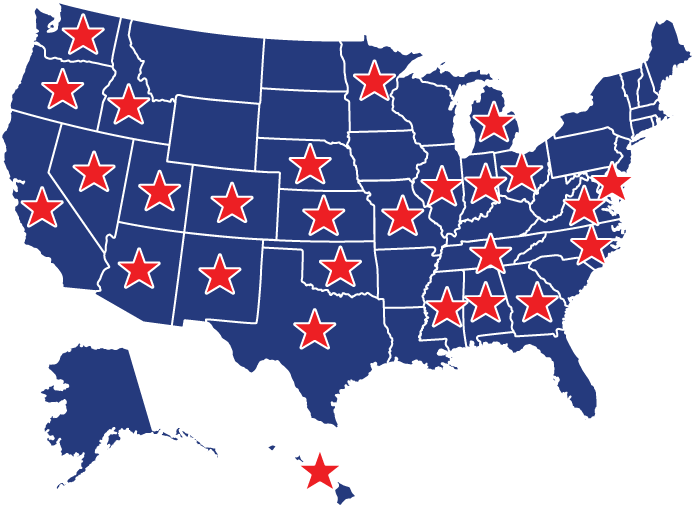 million dollars returned to local communities
million hours of volunteer service
Community Volunteer Spotlight
Meet Kathy Baskerville
Volunteer from Assistance League of Salem-Keizer
How does a career as a crime scene cleaner, a bachelors degree in psychology, and experience working on a crisis hotline all combine to make the perfect community volunteer at a furniture store?  Just ask Kathy Baskerville, who volunteers 12 hours per month at Assistance League of Salem-Keizer's Encore Furniture Store.  When Kathy came in to shop for furnishings a few years ago and learned that one of the chapter's programs helps young adult foster children set up their first household, she immediately wanted to help- and knew she could.  Her skills all came together to give her the volunteer job she loves- working with furniture and décor, keeping things very clean and knowing how to listen to customers.
Kathy feels that her contribution helps provide the kind of helping hand she wishes she had received when she was a foster child in Portland during her youth.  Sometimes everything comes together for just the right reasons!
We Need Your Help
Join us! Become a part of an incredible group of volunteers who are dedicated to making a difference in your community. Assistance League offers unique volunteer opportunities that fit your interest and time.

---