We are 23,000 members in 120 chapters nationwide focused on making our communities a better place to live.

---
Assistance League in the Community
Assistance League Culture of Giving Brings Donors Knocking
At pre-holiday fundraisers, Assistance League chapters challenge guests to dig deeper and donate a few extra dollars, over and above the generous amount already spent in silent auction, raffle and boutique purchases.
Assistance League members dig into their own wallets, publicly demonstrating the confidence they have in their chapter's ability to better living conditions for underserved youth and families.  Gala guests opened their hearts and benevolently donated handfuls of dollars that add thousands to a chapter's bottom line.
Program recipients who move on to better lives are among the most enthusiastic donors. At many chapters, program recipients give back in various ways, including donating their money and time.
Charitable giving is part of the culture of Assistance League. Members regularly donate to their home chapters and also invest in the national organization, both collectively and individually, through Circle Fund, a member-driven fund that helps build successful chapters nationwide through education, inspiration and support.
Friends, relatives and other supporters who choose Assistance League for their holiday or year-end giving are investing in hands-on, community-based programs that promote basic human needs, health, education and literacy in their own backyards. Located in cities and suburbs across the United States, 120 Assistance League chapters operate independently under the umbrella of a national nonprofit organization that dates back to 1935.
People interested in supporting Assistance League can click the DONATE tab above or log onto their local chapter's website.
Assistance League in the Community
Operation School Bell®
Can you imagine never having a new pair of shoes, only attending school half of the time as you must share your clothes with a sibling or an entire family sharing one toothbrush?  This is happening to 50% of the children in our country.  Operation School Bell, the national program of Assistance League, strives to meet the needs of children across our country.  During the past year, over 331,000 children were reached by the 120 chapters.  Since the program was started in 1958, over 4.3 million school-age children have been served.
Many chapters provide new school clothing, shoes and coats along with other items, including backpacks, books, school supplies and food for the weekend, in their programs.  Another aspect of this program is to provide dental or vision care and personal care kits.  The goals of providing children with these items are raising self-esteem, building confidence in the students and make a tremendous impact in their education.  This program also reduces the teasing and bullying of these students.
Watching the children as they are given new shoes, shop for clothing for the first time or receiving a new backpack is as rewarding to the member as it is for the children.  Whether the chapter provides vouchers, shops with the students in a local store or clothes them in their own facility, the members feel such a bonding with these students.  Operation School Bell takes a huge amount of effort, dedication, funding and manpower, which is willingly given by the members.
Find a Chapter or Thrift Shop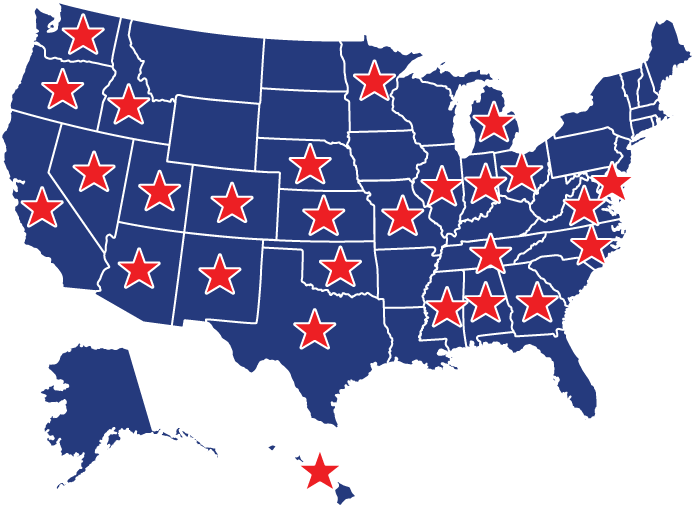 million dollars returned to local communities
million hours of volunteer service
Community Volunteer Spotlight
Meet Kathy Baskerville
Volunteer from Assistance League of Salem-Keizer
How does a career as a crime scene cleaner, a bachelors degree in psychology, and experience working on a crisis hotline all combine to make the perfect community volunteer at a furniture store?  Just ask Kathy Baskerville, who volunteers 12 hours per month at Assistance League of Salem-Keizer's Encore Furniture Store.  When Kathy came in to shop for furnishings a few years ago and learned that one of the chapter's programs helps young adult foster children set up their first household, she immediately wanted to help- and knew she could.  Her skills all came together to give her the volunteer job she loves- working with furniture and décor, keeping things very clean and knowing how to listen to customers.
Kathy feels that her contribution helps provide the kind of helping hand she wishes she had received when she was a foster child in Portland during her youth.  Sometimes everything comes together for just the right reasons!
We Need Your Help
Join us! Become a part of an incredible group of volunteers who are dedicated to making a difference in your community. Assistance League offers unique volunteer opportunities that fit your interest and time.

---