We are over 22,000 members in 120 chapters nationwide focused on making our communities a better place to live.  See us in action.
Transforming Lives • Strengthening Community

---
Assistance League in the Community
Assistance League Member Volunteers – The Heart of Their Community
Over 22,000 member volunteers in 120 chapters make a difference in their community by transforming the lives of children and adults through programs focused on basic needs, education and self-esteem.
Who are these member volunteers? They come from many walks of life. They are the teachers your children had in school, the nurses who worked in your doctor's office, executives from your bank, merchandisers from your favorite retail stores, attorneys, doctors, college graduates starting out their careers, PTA moms and teens. They may be retired or still working, but they are ready to volunteer and give back to their community.
The women and men who are committed to improving lives in their community could be members of their chapter, members of an auxiliary, an Assisteens® member and/or community volunteers. Many times they are volunteers who once were recipients of our programs.
How do they make a difference? Last year our members volunteered 3.5 million hours, transforming 1.6 million lives. They pour their hearts into serving on the many community programs clothing children, awarding scholarships to students and checks to teachers, feeding the hungry, fostering literacy, supporting seniors and so much more. They also volunteer in our thrift shops or on fundraisers where the dollars are raised to make our programs possible.
What does membership mean to our members? Here is what you might hear our volunteers saying: "As a member of Assistance League, I have had the opportunity to reinvent myself." "Seeing joy in the eyes of children getting to shop the first time for their own clothes is heartwarming." "Knowing that our scholarships mean a chance at a better education and life for our recipients is wonderful." "I feel so good to know that the books we give to children means they not only will have a book of their own to read, but that they will be more successful in school." "Not only have I been able to make a difference in my community, but I have made so many new friends…friends with such big hearts."
Would you like to be part of this amazing organization? From this page on the national website, click on Volunteer Opportunities and then Become A Member. Or, click on Find a Chapter or Thrift Shop to see if there is a chapter near you. We would love to have you become a member.
Find a Chapter or Thrift Shop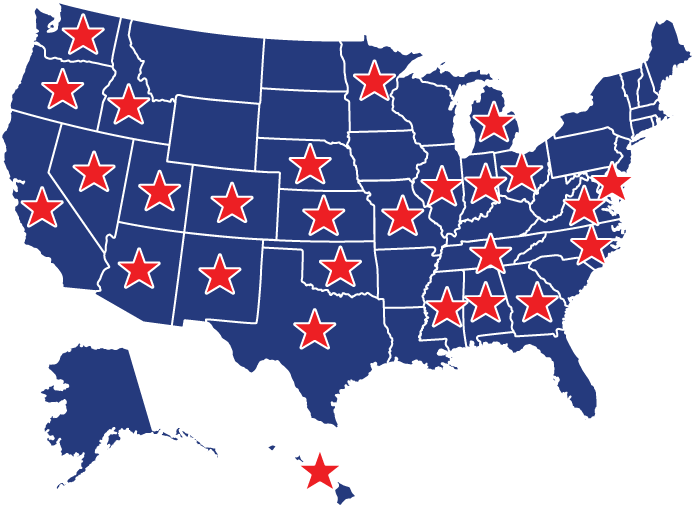 million dollars returned to local communities
million hours of volunteer service
HISTORY OF ASSISTEENS®
Assisteens is the youth auxiliary of Assistance League chapters.  Assisteens provides volunteer opportunities for young people in grades 7 through 12.  The goals are to develop a sense of community responsibility, self-reliance, personal responsibility, poise, public speaking, leadership skills and to support the chapter.  Assisteens raise money in a variety of ways to fund ongoing Assistance League and Assisteens philanthropic programs that benefit their community.
Assistance League was founded in 1919 by Anne (Mrs. Hancock) Banning and her friends, based on an informal charity in Los Angeles started in about 1894.  In the 1890s, social events raised money for local charitable giving. Assistance League, with Anne Banning and Ada Edwards (Mrs. Homer II) Laughlin and friends, provided money and clothing for the 1906 San Francisco earthquake and fire victims.  When the war started in Europe in 1914, Anne and her friends worked for the Red Cross and, in 1917, set up the Red Cross Shop that raised $150,000 in one year.  After the war ended in 1918, the ladies wanted to continue working together, helping people in need.
In 1919, Assistance League was formally organized, with Good Samaritan providing aid to returning veterans and their families and the Film Location Bureau raising the needed funds by renting private properties to movie companies.  Founding members were prominent women of Los Angeles of all faiths and political views.  In 1923, Assistance League moved to DeLongpre Avenue in Hollywood where the campus of Founder Chapter (Assistance League of Southern California) remains today. The motto was "All For Service and Service For All."  Anne Banning felt that women worked best in like-minded groups, so auxiliaries were formed.  Day Nursery was added in 1924, followed by Girls' Club, Theatre for Children, Toy Loan and Boys' Club. Junior Auxiliary was formed in 1929 for post-college-aged young women.
We Need Your Help
Join us! Become a part of an incredible group of volunteers who are dedicated to making a difference in your community. Assistance League offers unique volunteer opportunities that fit your interest and time.

---