Upscale Retail at Affordable Prices
Assistance League of Austin THRIFT HOUSE is a resale department store, staffed and administered entirely by member volunteers.  The store is open year-round and serves as a major source of income for Assistance League of Austin's philanthropic programs. The Austin community donates new and gently-used items — furniture, clothing, tools, office equipment, toys, household items, books, jewelry, antiques, collectibles, and much much more.
*Please check the homepage for the latest store hours which may be impacted by COVID-19.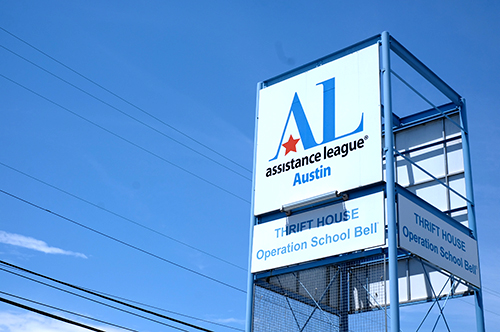 *Store Hours:
Wednesday–Saturday
10am to 3pm 
*Donations:
Monday–Saturday
10am to 3pm 
Lighten up your life! THRIFT HOUSE is here to resell items you no longer need. Someone else will be delighted to purchase your donations and put them to good use!
Bring your donations to the east side of the parking lot at 4901 Burnet Road during the hours we are open. Just ring the doorbell, and we'll be pleased to give you a receipt. Because Assistance League of Austin is approved by the Internal Revenue Service as a nonprofit 501(c)(3) charitable organization, all of your donations are tax deductible.
We are happy to accept your gently-used items for resale at THRIFT HOUSE. Your generous donations support our philanthropic programs. We cannot accept mattresses, encyclopedias, large exercise equipment, hazardous materials, and tube TVs. We also request that goods not be left when we are closed.