Become a Member
Assistance League volunteers transforming the lives of children and adults through philanthropic programs
Volunteer at Assistance League of Austin
Assistance League of Austin is a member-based, all-volunteer nonprofit organization.  It is open to women and men interested in volunteering, who share a commitment to community service and a desire to develop their leadership potential.
For more information about membership, please contact Assistance League of Austin at membership@alaustin.org or telephone us at 512-458-3716.  Or click one of the following buttons: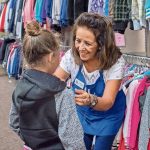 Help
We have eight wonderful programs that need your help. Getting involved in our programs and the community is very uplifting.
 "It has been a joy for me to be involved in so many of these programs, from THRIFT HOUSE to OSB to Fresh Start. At the end of the day, I love seeing people smile."
–Pam Ingalls, member
Meet
You will be welcomed with open arms by our 350 members, and it won't take long to get to know everyone
"I have met so many truly smart, kind, like-minded friends during my eight years with Assistance League. While we are giving back to the community, we also are forging ties to a community that provides us support and love no matter what life throws our way. I treasure the people I have found through ALA!"
–Lida Zolno, member
Learn
Opportunities abound everywhere at Assistance League for you to learn new skills and keep the old ones burning.
"Using my talents and skills to help support the wonderful programs at ALA is incredibly fulfilling. I've also gained new knowledge and skills along the way. I love the work that we do here." 
—Stef Atkinson, member
How You Can Help
Volunteer in the THRIFT HOUSE
Clothe school children through Operation School Bell®
Hand out toys and books through Toy Cart to children hospitalized at Dell Children's Medical Center
Mentor an ACC scholar
Work the back room collecting, sorting and pricing for THRIFT HOUSE
Help administratively by applying your office and computer skills
Many other opportunities for giving and serving