Boutique Days 2021
Assistance League of the Bay Area, despite a late start due to delayed school district decisions regarding prom season, hosted its Operation Cinderella Boutique Days. Thirty-nine (39) girls were provided prom dresses and matching accessories including shoes, a handbag, and jewelry.
Twenty-two boys received tuxedos and accessory rentals to attend their prom.
Community Assistance
Thanks to the help from community businesses and individuals, Assistance League of the Bay Area is able to make prom dreams come true.
For the 2021 season, Macy's Baybrook Mall donated over 500 beautiful ball gowns, and Weddings by Debbie contributed over 250 for our lady shoppers on Boutique Days.
Al's Formal Wear in Webster has permitted young men to shop for a tuxedo and accessories as well as shoes and assessed the chapter a lower cost for those items.
Making Dreams Come True
Through Operation Cinderella, a philanthropic program that began in 2006, prom night is made possible for high school senior girls and boys.  The chapter collects new and gently used formal dresses, shoes, purses, and jewelry for Boutique Day.  Students have a fairytale time trying on gowns and being pampered by member volunteers who assist as personal shoppers.  Our male shoppers are outfitted by Al's Formal Wear at the Baybrook location.
Students from Clear Creek, Deer Park, Dickinson, and La Porte ISDs, Devereaux Texas League City, and Mosbacher Odyssey Academy are referred by their Communities In Schools Student Support Specialists or school counselors based on individual circumstances.
Female students in the JROTC program in Clear Creek and Dickinson also participate in preparation for the district-wide Military Ball.  They are referred in the same manner.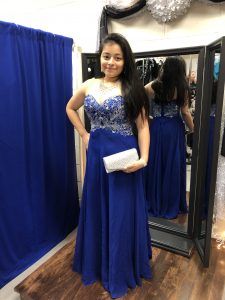 Donations Accepted Year Round
Although Operation Cinderella's busiest times are in the spring of each year, it's never too early to donate a new or gently-used evening dress, jewelry, shoes, or a purse to make our senior girls' prom dreams come true.