Dressing Children in Need (K-8)
In Birmingham Area Public Schools
During the 2019-2020 school year, Operation School Bell clothed 1603 students from 44 elementary schools in 9 districts
Elementary students (K-5th grade) are identified by their school counselors and brought to Operation School Bell by bus where the students are outfitted from head to toe with the assistance of one of our caring member volunteers.
Each Child Receives:
two pairs of jeans, pants or leggings
a  hooded jacket
three shirts
six pairs of underwear
six pairs of socks
a personal hygiene kit containing personal items
a book of their choice
In 2019-2020, over 130 middle school students received clothes through Operation School Bell
Middle school students meet at a local clothing store and are given an allowance of $125 to purchase clothing that they pick out with the assistance of family members and our member volunteers.
We loved seeing students and parents who were thrifty shoppers head for the sale and clearance racks and go home with several bags of new clothing. We are grateful to the stores and the school counselors who helped us facilitate this program.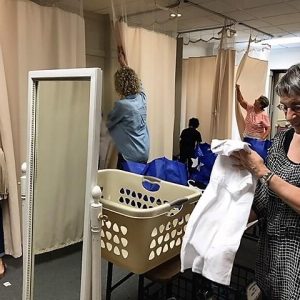 Contact Us
Operation School Bell
(205) 870-5555