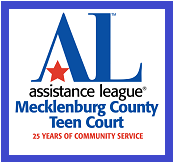 Assistance League of Charlotte Mecklenburg County Teen Court Recognition
Scholarship Policies and Procedures

Purpose of Scholarship ProgramAssistance League of Charlotte Mecklenburg County Teen Court (MCTC) provides grants that pay
for individuals to attend an educational institution, either a public or private college or university, or
a vocational school. Grants made from such funds shall be referred to as "scholarships." Such
scholarships are intended to provide life-long opportunities for students and to benefit the
community through enhancement of the workforce.II. Legal ComplianceIn administering scholarships, Assistance League of Charlotte MCTC adheres to the federal
requirements for all scholarship funds to maintain the charitable nature of Assistance League's
scholarship program and to guard against any private benefit to individuals associated with the
scholarship program.

The policies governing the scholarship grants are written so as to ensure the grants are used to
study at "an educational organization which normally maintains a regular faculty and curriculum
and normally has a regularly enrolled body of pupils or students in attendance at the place where
its educational activities are regularly carried on" Internal Revenue Code 170(b)(1)(A)(ii) and meet
the definition of "qualified scholarship," meaning they are used for "tuition and fees required for the
enrollment or attendance of a student at an educational organization described in section
170(b)(1)(A)(ii)," and "fees, books, supplies, and equipment required for courses of instruction at
such an educational organization" IRC 117(a) and IRC 117 (b). Such further conditions ensure
such grants are not a "taxable expenditure" as outlined in IRC 4945 (g)(1).

III. Role of a MCTC Recognition Scholarship Committee Member

All MCTC Recognition Scholarship Committee members must evaluate the eligibility of all
applicants without bias and conflicts of interest and make selection recommendations based on the
established specific selection criteria for the recognition scholarship.

IV. Scholarship Criteria

MCTC Recognition Scholarship award recipients are to be selected on an objective and
nondiscriminatory basis.

Scholarship criteria may include, but are not limited to, the following: hours of service to the
Mecklenburg County Teen Court Program; recommendations of such applicant from others who
have knowledge of the applicant's involvement in service to others and the community; conclusions
Policies and Procedures for the MCTC Recognition Scholarship Program
Page 2
Adopted July 2020
which the MCTC Recognition Scholarship Committee may draw as to the applicant's motivation
and character.
Scholarship recipients must be secondary school students who are pursuing studies to meet the
requirements for an academic or professional degree, or students – whether full-time or part-time –
who receive a scholarship for study at an educational institution that provides an educational
program acceptable for full credit toward a bachelor's or higher degree, or offers a training program
to prepare students for gainful employment in a recognized occupation and is authorized under
federal or state law to provide such a program and is accredited by a nationally recognized
accreditation agency. All scholarships must be used for tuition, room and board, materials, fees,
and related expenses.
Scholarships are for one year. Scholarships must meet and comply with all federal regulations
regarding their benefits and usage.
V. Scholarship Selection Processes
The MCTC Recognition Scholarship Committee administers one scholarship process, following the
procedures below:
1. The MCTC Recognition Scholarship offers an online application, available January 1st of the
new year.
2. Applicants must adhere to all guidelines and submit a standard application and required
supporting documents by the deadline (the last Tuesday in February) to be considered.
3. Applicants are advised that the school they choose to attend must be one that meets the
definition as outlined in IRC §170(b)(1)(A)(ii).
4. Applications are reviewed and placed into consideration for the scholarships for which they
meet the criteria.
i On the day immediately following the submission deadline, final cumulative and
current MCTC teen volunteer hours are tabulated and reported.
5. The MCTC Recognition Scholarship Selection Committee meets and reviews the
applications in March.
i Committee chair confirms with Assistance League of Charlotte and MCTC budgeted
funds available for scholarship award(s).
ii Committee identifies scholarship recipients and recommends cash allocation.
6. The MCTC Recognition Scholarship Committee notifies the MCTC Committee members
and Assistance League of Charlotte Board of awards and then notifies the recipients in
April.
i MCTC Recognition Scholarship recipients are required to provide their university ID
number.
ii Committee Chair confirms university outside award mailing address via email to the
university bursar office.
7. Scholarship checks are written on July 15th (or Monday following when the 15th occurs on
a weekend), made payable to the school with the student's name and ID included in the
correspondence so that the correct student account is credited. The school must meet the
description of higher education as outlined in IRC §170(b)(1)(A)(ii). Scholarships are to
benefit the specific scholar only and schools may not use the scholarship for other
purposes. The school will be advised it must agree to use the scholarship funds only to
defray the scholar's enrollment or attendance tuition and fees and/or fees, books, supplies
Policies and Procedures for the MCTC Recognition Scholarship Program
Page 3
Adopted July 2020
and equipment needed for courses of instruction. The school must return the funds if
unable to abide by the stipulation.
8. Scholarship recipients are responsible for providing their current and updated contact
information during the application period and for the academic year.
9. The MCTC Recognition Scholarship Committee will keep updated, detailed records on all
scholars and their respective scholarships for three years after the scholarship is expended.
Electronic and paper records are governed by Assistance League's confidentiality and
record retention policies.
VI. Scholarship Recordkeeping
Assistance League of Charlotte MCTC Recognition Scholarship Committee will maintain records
regarding scholarship information in keeping with Assistance League of Charlotte document
retention and confidentiality policies:
VII. Publicity
The MCTC Recognition Scholarship Committee will publicize the scholarship program through
Assistance League of Charlotte:
• digital and print publications,
• website and social media sites,
• at the Assistance League of Charlotte Center,
• invitation to the top recipient(s) to speak at a member meeting, and
• as determined by the ALC Marketing committee.
CTC Scholarship Policies and Procedures