Assistance League of Charlotte Thrift Shop
Voted best Thrift Shop in Charlotte by Creative Loafing Readers
Chosen as #1 Thrift Shop by Charlotte Stories
First time Shoppers and regulars alike agree this is a great place to shop!
Proceeds from the Thrift Shop help fund Assistance League of Charlotte philanthropic programs.
Bargains abound in gently used items such as furniture, clothing, books, toys, jewelry, household items, electronics, computers, shoes, sports equipment and baby items. Assistance League members staff the store and help provide an enjoyable shopping experience for each customer.
Members pay special attention to sorting donations to the shop to make sure that the merchandise is of the best quality. Items considered unsuitable for sale are donated to other nonprofits in the Charlotte area.
It takes many hands and hours to sort, clean, and price donations.  Our dedicated members are there almost everyday processing our donations.  Many of our customers are also our donors.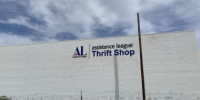 Charlotte Thrift Shop
5426 Old Pineville Rd.
Charlotte, NC 28217
(704) 525-5000
email:alcthriftshop@alclt.org
Open
Tuesday, Thursday, & Saturday
10 AM – 4 PM
We accept credit/debit cards.
We do not accept checks.
Assistance League of Charlotte operates Technology Access Program by making

affordable

computers and computer accessories 

accessible
for

purchase by individuals and families through its Assistance League of Charlotte Thrift Shop. Donated computers are refurbished under the Community Microsoft Authorized Refurbisher.
Through its computer 
refurbishing efforts, Assistance League of Charlotte helps bridge the digital divide,
promotes literacy, and helps the environment by recycling used computers.
Discount Information
Colored Tag Discounts
Each month 2 different colored tags indicate a discounted price at either 50% or 75% off the regular price. Signs are posted throughout the store to inform our customers of the discounted colors.
CMS/Military Discount:
We offer a 20% discount off an entire purchase every day for employees of the Charlotte Mecklenburg School District and present/former military personnel with IDs. White-ticketed merchandise is NOT subject to the discount. The following items are also excluded from this discount: consigned merchandise, End-of-Season sale merchandise and special events. Other exclusions may apply.
ID is required & strictly enforced:
No ID, No discount.
No exceptions.
Our Policies
We have a "NO RETURN" policy,
NO EXCEPTIONS!
If an item doesn't have a tag, it goes back into inventory until the department head prices it.  Negotiations will not be entertained.
Donation Information
When considering what to donate, please keep in mind our customers shop with us for great buys on new or "gently used" merchandise.  Please make sure your donations are clean and in good condition with no rips, tears, stains, pet hairs, pet/ tobacco odors, excessive wear or structural damage.  Bring your donations  to our Thrift Shop at 5426 Old Pineville on Saturdays between 10am – 3pm.   Stay to shop.
Proceeds from our Thrift Shop help fund our philanthropic programs