Assistance League of East Valley Thrift Shop
2326 N Alma School Rd
Chandler, AZ 85224
(480) 792-1600
STORE DAYS & HOURS

Wednesday, Thursday, Friday, and Saturday
10:00am – 4:00pm
Closed Sundays, Mondays, Tuesdays, and holidays
DONATIONS ACCEPTED
Monday, Wednesday – Saturday
10:00am – 3:00pm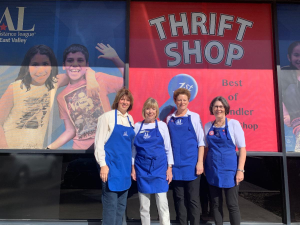 POLICIES
We accept credit/debit cards for minimum purchases of $5.00.
We have a "NO RETURN" policy on all items purchased.

Our unique Thrift Shop provides funding for our philanthropic programs in the East Valley. Please stop in and check our exceptional sales. We received a comment from a satisfied customer that ours is the "Nieman Marcus" of thrift stores! It is staffed and managed entirely by our member volunteers. Our members work hard to make sure the merchandise is always good quality, clean, and priced fairly.  Come see for yourself!
We offer quality merchandise, including a selection of antiques and collectibles, men's, women's, and children's apparel and shoes, books for every age, baby clothes and accessories, sporting goods, toys, housewares, linens, home decor, seasonal items, and jewelry, all at affordable prices.  Our "Boutique" racks contain better clothing lines, some never even worn.
Thrift Shop Donations
Your donations are always appreciated!  Donations are tax deductible, a receipt will be provided.
Donations of good clothing, small appliances, décor items, books, toys, and housewares are gratefully accepted Monday and Wednesday thru Saturday, 10am – 3pm..
High quality merchandise is offered at reasonable prices. We are limited in space and cannot accept large appliances or exercise equipment, used mattresses or bed pillows, or computer monitors.   The names of donors contributing to the thrift shop are never made public without the donor's written permission. (Donor Privacy Policy)
Please bring your "gently used" items to the Receiving door located in the back of the building. Ring the doorbell, wait, and we will assist you in dropping off your items.
For safety reasons, donations are accepted only during above noted hours.  Please, do NOT leave items outside when we are closed, as they will be damaged by the weather.  Unfortunately, we do not have a pick up service.
Donation Guidelines
Please, NO broken or damaged household items.
Please, NO significantly damaged, torn, or stained clothing items.
Due to space limitations, we can NOT accept the following items:
Large appliances
Furniture
TV's, computers, or printers
Cars or motorcycles
Large exercise equipment
Infant car seats