HOURS
Tuesday-Saturday: 10:00 AM – 4:00 PM
Sundays and Mondays: Closed
Donations accepted Monday-Saturday 8:00 AM – 4:00 PM
POLICIES
We have a "NO RETURN" policy on all items purchased.
Join our email list and receive Sale and Special Event notifications!
Great Reputation, Quality Merchandise,
and Friendly Member Volunteers!
Thrift Shop sales help to support our philanthropic programs. The shop is staffed and managed entirely by our member volunteers. We were proud to be recognized by Desert Companion Magazine as the Best Quality Thrift Shop in Las Vegas in 2014 and 2018 and voted Review Journal's Best of Las Vegas Thrift Shop 2017. Our members work hard to make sure the merchandise is always in good condition, clean, and priced fairly. Come see for yourself!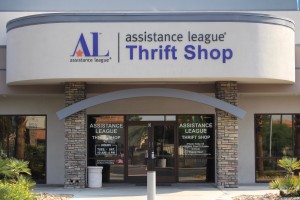 We offer quality merchandise, including a Top Drawer section of designer clothing and accessories, a selection of antiques and collectibles, men's and women's apparel and shoes, books for every age, housewares, linens, home decor, seasonal items and jewelry, all at affordable prices. We also carry other items as they are donated, such as tools, sporting goods and furniture.
Thrift Shop Donations
Your donations are always appreciated! Donations are tax deductible, a receipt will be provided.
Please bring your "gently used" items to the receiving door located at the rear of the thrift shop building. Ring the doorbell, wait, and we will assist you in dropping off your items.
For safety reasons, donations are accepted only during the following hours: Monday-Saturday, 8:00 AM – 4:00 PM. Please, do NOT leave items outside when we are closed, as they will be damaged by the weather.
DONATION GUIDELINES
Please, NO broken or damaged household items.
Please, NO significantly damaged, torn, or stained clothing items.
Due to space and safety limitations, we can NOT accept the following items:
Mattresses
Furniture in need of repair
Large appliances
Ski equipment
Computers or printers
Encyclopedias
Construction or remodeling materials
Large exercise equipment
Knives, weapons
Food items
Any liquids
Hazardous materials, such as paint
Come visit our Thrift Shop. Our amazing volunteers are working hard to find treasures for you!