On February 28th over a dozen volunteers read at Hurricane Elementary.
Fourteen of our members traveled to Hurricane Elementary School to participate in their Read Across America Week. In a very efficiently organized two hour time frame members read for 15 minutes to 21 classrooms, first through fourth grades.  What a fabulous time!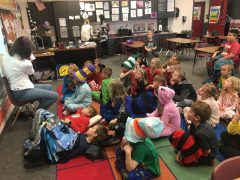 The teachers selected their favorite books: 1st grade – Click Clack Moo; 2nd grade – Bad Case of Stripes; 3rd grade – Stuart Little; and 4th grade – Wish.  Each child received a copy of the book and was able to take it home.
We've been involved with Hurricane Elementary for several years. The principal had previously worked with us there as the counselor so it's an ongoing rewarding relationship.
Join us next year!!