We're Helping the Kids!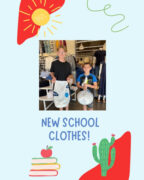 School counselors report that our programs make a difference. The majority of students served show positive changes in classroom behavior, self-confidence, and a greater level of engagement with peers and school activities.
Helping children fit in with their peers gives them an opportunity to become their best.
Over 400 students have shopped for new school clothes with our community partners in the last couple of months. We hope to provide 1000 children and young adults with new clothes this school year.
Thank you Old Navy!