It's Been Another Banner Year!
We recently received grants from local Walmart stores and their support means everything to us!
Besides being a business partner where students and their families can shop they also gift us grants to help us continue to provide clothes for kids year after year.
The Walmart managers and staff are always helpful and we appreciate them.
These third and fourth-graders love their new clothes and hats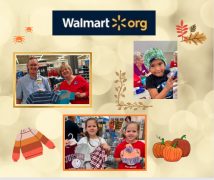 With all scheduled shopping completed, at Walmart, Old Navy, and H & M, we've provided clothing and shoes to 940 kids for a total of over $95,400.
Thanks to all that made this possible…donors, volunteers, and the stores!