A Favorite Benefactor Continues Support
A recent grant from the Dennis and Joan Norton Family Foundation, located in Salt Lake City, has helped us continue our mission to help underprivileged kids of southern Utah.
We thank them for their $5,000 gift, and especially for joining our group of supporting donors, grantors, and individuals.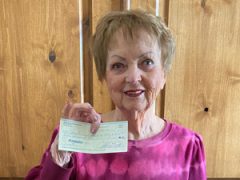 Chapter member Lila Kearns showcases the check of this generous grant.