ASSISTANCE LEAGUE OF TEMECULA VALLEY THRIFT SHOP
28720 Via Montezuma
Temecula, CA 92590-2510
(951) 694-8018
Thrift Shop Now Open
Given these tremendously challenging and unprecedented times, Assistance League of Temecula Valley wants to first state that our thoughts are with every family and individual impacted by the ongoing Coronavirus pandemic. This is a moment for all of us to look at what we can do, not only to protect ourselves, but also to help protect each other.
Current Thrift Shop Hours
Wednesday, 10: a.m. – 4:00 p.m.;  Th, F, S 1:00 – 4:00 p.m.
Thrift Shop donations only accepted during business hours.
Thank you for your support!
Holiday Hours:
November 24 Wednesday, 10:00am-1:00pm; F, Sat. 1:00-4:00pm
CLOSED Thanksgiving Day
CLOSED December 24 through January 4
REOPENING JANUARY 5
California Department of Public Health and the CDC have announced that it is now recommended that all individuals, vaccinated and unvaccinated, wear masks indoors.  Assistance League follows CDC protocols and recommends customers and volunteers wear masks when in the thrift shop.
Thank you for your understanding and cooperation.
In accordance with COVID-19 modifications as Riverside County moves to open up the economy, we are pleased to announce the following updated guidelines for our thrift shop:
• Taking temperatures before entry is no longer required.
• No limitations on the number of persons entering the store.
• Dressing rooms are open..
• Hand sanitizers and sanitizer sheets will continue to be available throughout the
store.
• Public restrooms are open.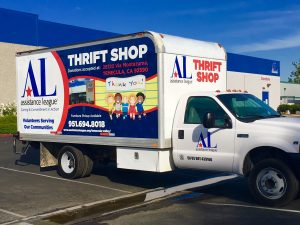 Furniture Pick-up
Furniture pickups are temporarily suspended.
Policies
We accept MasterCard, Visa, Discovery, American Express credit/debit cards (must have emblem)
We accept cash cards (must have emblem)
We have a "NO RETURN" policy on all items purchased.
Regular Sales
Regular First Friday sale continues to be on hold. Last Friday 50% Off Boutique Department Sale is BACK starting July 30, 2021!
We continue to have weekly department sales. Watch our emails for announcements. You may sign-up for the weekly email below. Also, follow us on Facebook and Instagram for posted sales.

Other Sales
When regular sales and additional sales are offered, they will be announced in our weekly email to customers, Facebook and Instagram.
Signup at the thrift shop counter or click on the button below to receive announcements via email.
Sign Up For Sales Announcements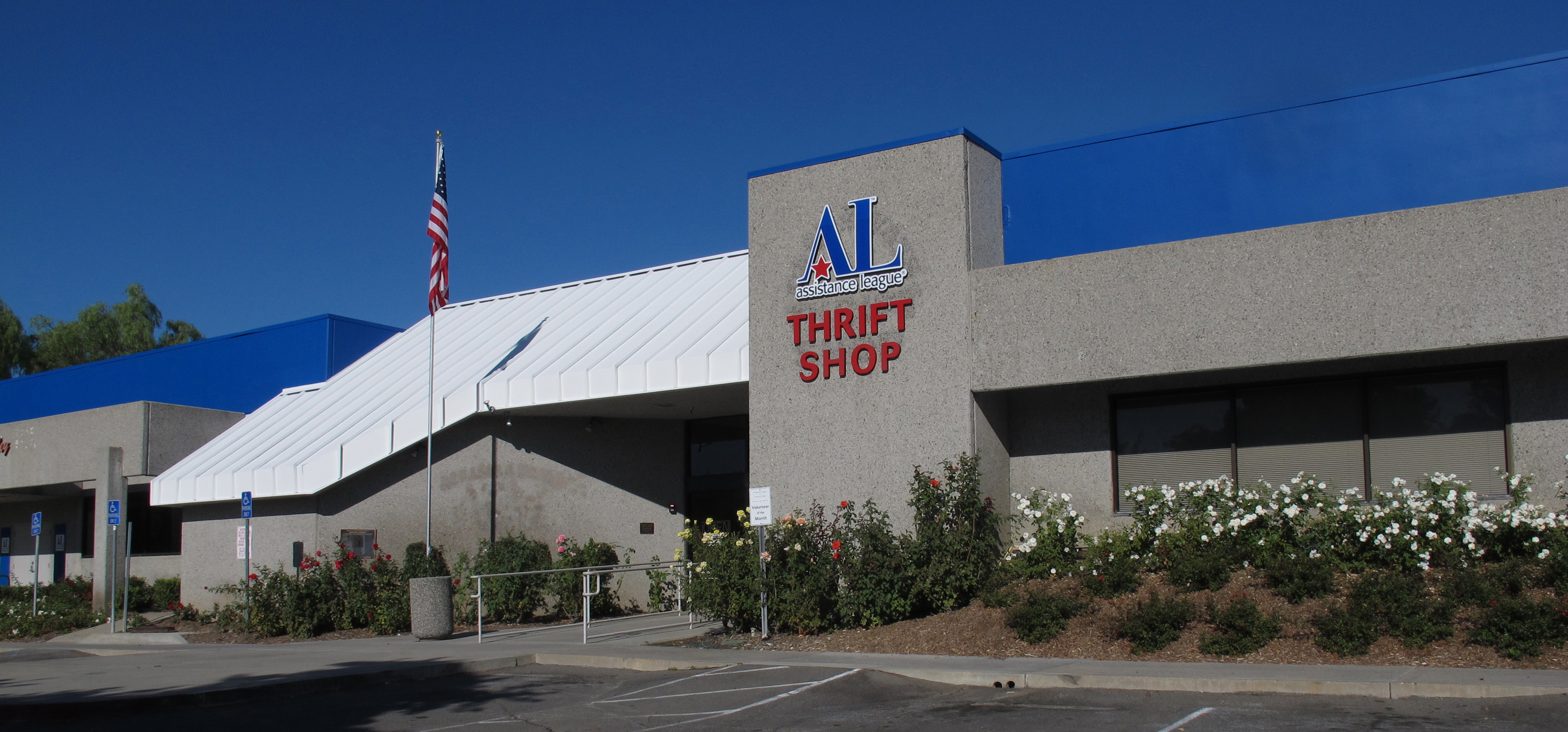 Great Reputation, Quality Merchandise,
and Friendly Member Volunteers!
Assistance League Thrift Shop, an 18,000-square-foot upscale resale shop, offers quality merchandise, including a selection of antiques and collectibles, men's, women's, and children's apparel and shoes, books for every age, baby clothes and accessories, electronics, sporting goods, toys, housewares, linens, furniture, home decor, seasonal items, and jewelry, all at affordable prices.  Our "Boutique" racks contain better clothing lines, some never even worn.
The thrift shop is the main source of funding for our eight philanthropic programs. It is staffed and managed entirely by our member volunteers.  We are proud of our reputation as one of the best and friendliest thrift shops in Southwest Riverside County. Our members work hard to make sure the merchandise is always good quality, clean, and priced fairly.  Come see for yourself!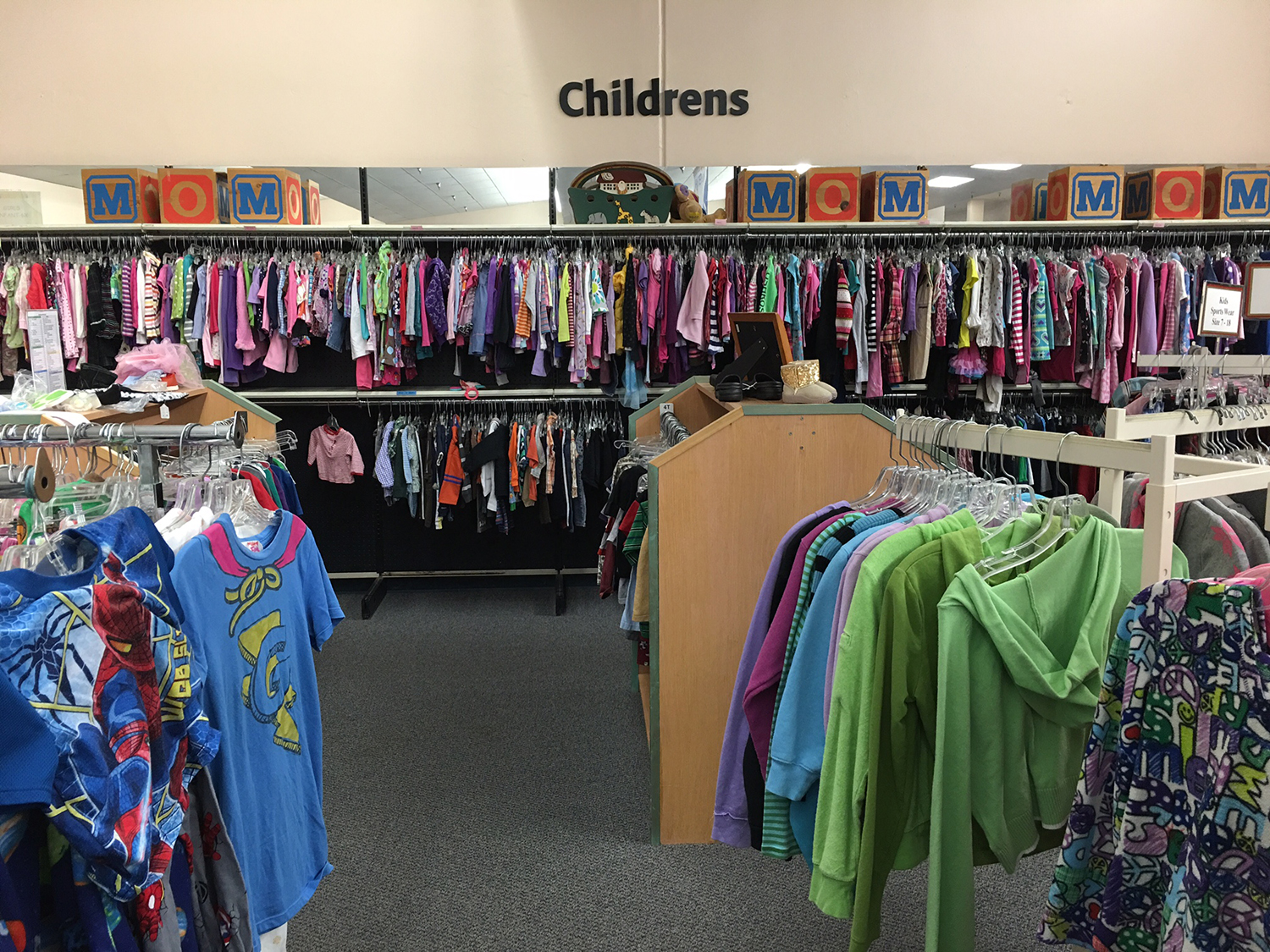 Many choices of titles and magazines in our Book Department
Baskets and artificial flowers
High end clothing, shoes & accessories in our Boutique Department
Our Customers Enjoying Their
Assistance League Thrift Shop Experience!
Thrift Shop Donations
Your donations are always appreciated!  Donations are tax deductible, a receipt will be provided.
Please bring your "gently used" items to the Donation door located around the corner to the right of the thrift shop entrance.  Ring the doorbell, wait, and we will assist you in dropping off your items.
For safety reasons, donations are accepted only during business hours.  Please, do NOT leave items outside when we are closed, as they will be damaged by the weather.
Donation Guidelines
We welcome, and greatly appreciate, donations of items in good condition, such as clothing, books, toys, jewelry, housewares, collectibles, baby items, furniture and electronics.
Please, NO broken or damaged household items.
Please, NO significantly damaged, torn, or stained clothing items.
Please, NO significantly damaged, torn, stained or faded furniture.
We do NOT accept the following items:
•Mattresses, box springs, bed pillows
•Broken furniture, toys, appliances
•Microwave ovens
•Baby cribs, Infant car seats
•TV's, computers, monitors, printers, fax machines
•Window blinds, shades, wallpapers
OUR MEMBERS WORK HARD TO SORT, CLEAN AND PRICE DONATIONS