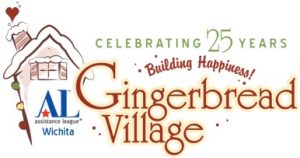 Assistance League® of Wichita Presents Gingerbread Village at Exploration Place – a weekend for families to build houses and lifetime memories.
The information below is for the 2019 event. The 2020 event information will be posted when available.
Saturday, November 9 – 10 a.m. to 6 p.m.

Sunday, November 10 – 11 a.m. to 5 p.m.
Inaugurate your holiday season with the Assistance League® of Wichita's 25th annual Gingerbread Village in partnership with EXPLORATION PLACE!
Join us at Exploration Place in the heart of Wichita, 300 N McLean Blvd. This family event is a kickoff for our Holiday season. Bring your children, grandchildren and neighbors to share in the construction of your unique Gingerbread house and share in the many exhibits of our world class Science Center.
Exploration Place members will be admitted with their membership card and $5.00.
Adults: (12-64) $10.50
Seniors: (65+)  $9.00
Youth: (3-11)     $7:00
2 years and under are free
MAKE YOUR OWN GINGERBREAD HOUSE
You and your family members will receive complete house kits with each admission.  The kit includes a pre-cut house, icing and candy to decorate a unique Gingerbread House.  Let your imagination to go wild – create two-story homes or fairytale delights.  Your Gingerbread House/s will go home with you to start your seasonal decorations.
You may store your decorated house/s with Assistance League volunteers while you and your family experience Exploration Place.
John and Jeanne Shaft of Livington's Diner are preparing the very special icing required for extraordinary holiday house creations.  Building thousands of Gingerbread Houses requires about 35 5-gallon containers of precisely mixed icing.  Kernel's Popcorn Express donates popcorn that is just right for creating "snow" around your house.
ENJOY EXPLORATION PLACE
Gingerbread Village guests will also be able to enjoy all of Exploration Place's exhibits including Wild Weather, the science museum's new traveling exhibit. At Wild Weather, guests will become immersed in extreme weather conditions. They will fly through a hurricane, swirl along a tornado's path, track turbulent cloud formations, map lightning strikes, and stand in the midst of a raging winter storm! Plus, much more.
Wichita Children's Theater and Dance will be performing at Gingerbread Village.  Butler Community College choral groups add to the holiday spirit with The Smorgaschords performing on Saturday, 1-2:30PM, and The Noteables entertaining on Sunday, 1:30-3:00PM.
Explore, sample and create holiday memories while supporting the Wichita community! Tickets are available at Exploration Place before or on the days of the event. For members of Exploration Place, the price is $5 for ages three years and older. For non-members, the prices are $9 for seniors (65+), $10.50 for adults (12-64), $7 for youth (3-11), and children two and under are free. Tickets include making your own Gingerbread House and experiencing exhibits at Exploration Place.
SAVOR BAKED GOODS FROM ASSISTANCE LEAGUE OF WICHITA MEMBERS
Freshly baked cookies, pies and other holiday goods from the kitchens of Assistance League of Wichita members will be available for purchase.
THANKS TO SPONSORS
Fidelity Bank and the Bruce G. Cochener Foundation are the 2019 sponsors of Gingerbread Village.
Proceeds from ticket sales and baked goods support ALW programs described below.
ASSISTANCE LEAGUE OF WICHITA
Since 1988, the Assistance League of Wichita, a member of the National Assistance League, has sought to transforms lives and strengthen community through key programs, including,
OPERATION SCHOOL BELL, providing new clothing to 3,000 USD 259, K-12 students in partnership with JCPenney West. Twenty shopping sessions were held August 22 – October 5, 2019.  There are also emergency shopping sessions for in-need youth who enter USD 259 during the school year.
SCHOLARSHIPS, providing 20-25 scholarships for technical/vocational job-ready training programs at WSU Tech or Butler Community College to qualifying USD 259 seniors. ALW offers first year scholarships that may be renewed for a second year as students successfully complete the initial year.
ASSAULT SURVIVORS KITS, providing clothing, footwear, hygiene items and journals to the Wichita Area Sexual Assault Center for nearly 500 recipients annually; and,
BEAR HUGS, providing teddy bears, journals/sketch books and tote bags to child victims of violence treated by Forensic Nursing Services at Ascension Via Christi, St. Joseph and at Wesley Medical Center.
ALW WEEK OF ACTION in late February/early March focuses on literacy with a book drive for Wichita elementary schools.  The 2019 drive netted over 850 books for distribution to students of Harry Street School as their personal books that they may take with them, wherever a move takes them.
ALW also operates a Thrift Shop at 2431 E. Douglas in Wichita, which receives gently used and new clothing and home goods from throughout the community.  One hundred percent volunteer-run, the shop is responsible for half of the annual funds raised to support these vital programs.  Other funds come from grants, individual gifts and events.
Those interested in more information on the services provided, to donate or become members of the Assistance League® of Wichita, may call 316-687-6107 or visit www.assistanceleague.org/wichita.