Thrift Shop is OPEN: Mon-Wed-Fri  10:00-2:30
We are accepting donations on those days 10:00-2:00
Assistance League of El Paso is a 501(c)(3) all-volunteer nonprofit organization that puts caring and commitment into action through philanthropic programs in El Paso County.  Member volunteers are dedicated to ongoing support through hands-on involvement and innovative philanthropic programs.   There are no paid employees.
The Thrift Shop at 2728 Yandell is our main source of funding.  The shop is staffed and managed entirely by member volunteers.  Tax-deductible donations are always welcomed.
Other funding sources include corporate and private foundation grants, individual donations, and an annual Community Support Letter requesting monetary donations dedicated to Operation School Bell®.
85 percent of all donations are returned back to the community through our philanthropic programs below.  Projections indicate 3,000 public school children will be served this year.   Donations to Assistance League of El Paso help many public school children in our city and county. Clothes and shoes are distributed on the recommendation of each public school Counselor.
Anyone interested in volunteering is encouraged to join Assistance League of El Paso. Click Join for more information plus complete the Membership Inquiry form.
50 Years of Community Service Presentation
Video will auto-play with 5 seconds per slide
We work with public school children in grades 1-5. Our Charter requires Assistance League of El Paso volunteers be a dues-paying member, undergo a standard El Paso County background check, and attend mentoring sessions in the four philanthropic programs before &nbspvolunteering.
Assault Survivor Kits
When authorities report sexual assault, the victims clothing is often retained as evidence.   Each kit contains a set of new clothing and toiletries, plus showing that someone cares.
Our member volunteers purchase, assemble, and deliver ASK kits to agencies who help victims of sexual assault.
Each kit includes (1) Pair of sweat pants with matching top, (2) Undergarments, (3) One pair of socks, (4) Pair of sunglasses, and (5) Small bag of toiletries.   Read more  >>>
Operation School Bell
Children who attend school without adequate clothing often suffer from low self-esteem and low performance in school.  The goal of Operation School Bell is to provide a week's worth of new school clothing to children whose families struggle to provide the necessary clothes.
Children in grades 1-5 attending El Paso County public schools are identified by their school administration.   They arrive at the Chapter House via school buses from 143 schools.   Read more  >>>
PASO Bears
PASO (Put A Smile On) Bear committee purchases and distributes 500 Teddy Bears to emergency service organizations for people (usually children) in traumatic situations.   The goal is to calm and give comfort when a crisis occurs.
Every police car, fire truck, and ambulance has a cuddly friend tucked away in their vehicle.  When a situation arises and someone needs calming, PASO Bears are ready to go to work.  They may calm a child who needs medical attention.   Read more  >>>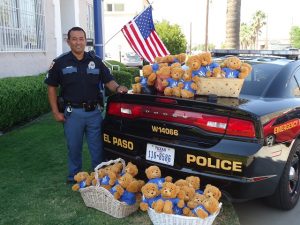 We Help Others
WHO (We Help Others) committee serves abused, homeless women and their children at La Posada shelter.  La Posada provides a safe environment for everyone.  Our high school Assisteens play games and sports with the children.  We supply daily necessities to help these women and children return to a better life than the one they left.    Read more  >>>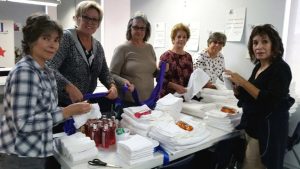 Thrift Shop sales are the primary source of funding for the philanthropic programs.  Members work hard to insure merchandise is good quality, clean, and priced fairly. We offer quality merchandise in many areas.
The Thrift Shop is located at 2728 E. Yandell in El Paso, TX.  Hours are Mon – Sat  10 am to 3 pm.   Click Subscribe to join our email list for advance sale notices.   Read more  >>>