Your Contribution, Small or Large, Will Make a Difference!
Assistance League of Fullerton is a nonprofit 501(c)(3).  Your contributions are fully tax deductible.  We are an all-volunteer organization with no paid staff, therefore your contribution is maximized.  All donations stay in the North Orange County cities we serve , benefiting adults and children in need through our philanthropic programs. Your gifts are greatly appreciated.
We are proud to be a GuideStar Exchange Platinum Participant!  Click on the GuideStar logo to review the Nonprofit Report on Assistance League of Fullerton provided by GuideStar Exchange.
Individual Donations
Contributions can be made by check, credit card or PayPal.  Click here for our Donor Privacy Policy.
Click the Donate button below to contribute via credit card or PayPal.
When this donation appears on your billing statement, it will be identified on your statement as ASSISTANCEL or ASSISTANCELG FUL
   California and Arizona residents only please
Checks may be mailed to:
Assistance League of Fullerton
233 West Amerige Avenue
Fullerton, CA 92832
Honor Family and Friends
Donations may be made to honor the memory of a loved one or celebrate significant events.  We will send a card to the person or family you have chosen to honor.  Gift amounts are not listed.
Thrift Shop Donations
Proceeds from our Thrift Shop help fund our philanthropic programs.  Bring your donations of new or gently-used items to our Thrift Shop at 233 West Amerige Avenue in Fullerton, CA.  Stay to shop.  We offer quality merchandise at affordable prices.
Grants from Corporations and Foundations
Assistance League of Fullerton's Grants Committee writes grant proposals to support our philanthropic programs.  Grants are especially helpful during this time of great need throughout our community.
Enroll in RALPHS Community Contribution Program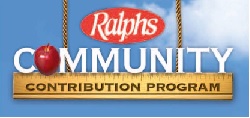 Sign up for Ralphs Community Contributions Program.  For instructions click here .  You must re-enroll each year.  Your enrollment will not interfere with your individual rewards.