Assistance League of Georgetown Area Thrift Shop
900 North Austin Avenue, Suite 115
Georgetown, TX 78626
(512) 864-2542
HOURS
Mondays: Closed
Tuesday through Saturday: 10:00 AM – 4:00 PM
POLICIES
We have a "NO RETURN" policy on all items purchased.
GRAND OPENING – June 26, 2018
We've moved to a new location in Republic Square between CVS and Dollar Tree.  Our new store is open.  We have double the space and lots of new merchandise.  Come see us!
WEEKLY SALES POSTED ON OUR FACEBOOK PAGE:
Treasures from the Thrift Shop!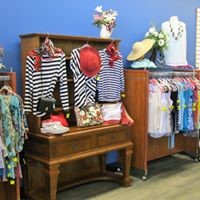 Quality Merchandise
Friendly Member Volunteers
The Marilynn Seelman Memorial THRIFT SHOP is an upscale resale shop stocked with donations of new and slightly used clothing and merchandise; staffed and administered by our members. Donations are accepted during business hours Tuesday through Saturday 10:00 am to 4:00 pm. We also pick up donated furniture.  A tax-deductible donor receipt will be provided.
Join our email list to receive periodic sales information; like us on Facebook.
Thrift Shop Donations
Your donations are always appreciated!  Donations are tax deductible, a receipt will be provided.
Please bring your "gently used" items to the receiving door located at the rear of the thrift shop entrance.  Ring the doorbell, wait, and we will assist you in dropping off your items.
For safety reasons, donations are accepted only during the following hours:  Tuesday through Saturday 10:00 AM – 4:00 PM.  Please, do NOT leave items outside when we are closed, as they will be damaged by the weather.
Donation Guidelines
Please, NO broken or damaged household items.
Please, NO damaged, torn, or stained clothing items.
We CANNOT accept the following items.
Mattresses
TV's, computers, or printers
Encyclopedias
Cars or motorcycles
Large exercise equipment
Baby cribs, infant car seats
Hazardous materials, such as paint