Assistance League of Georgetown Area is an all-volunteer, nonprofit organization comprised of member volunteers who bring together their talents and abilities to fulfill the mission of assisting those in need in the Georgetown extended community.
Membership is open to those who have the time and passion to volunteer.  Programs are tailored to the needs of our community and provide the perfect venue to serve those around us.
Join over 170 members who volunteer with Assistance League of Georgetown Area.  Choose from the philanthropic programs and committees that interest you and would benefit from your unique skills.  Make a difference in your community by sharing your enthusiasm and extending a helping hand while making new friendships that will last a lifetime.
Dressing Children in Operation School Bell®
Assisting customers in the Thrift Shop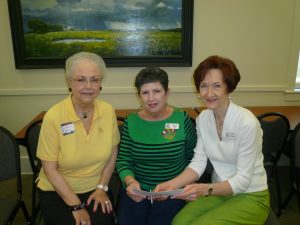 Membership Levels and Requirements
Become a part of an incredible group of volunteers dedicated to making a difference in the Georgetown area.  Assistance League offers many opportunities for you to help in your community.
You can volunteer for Operation School Bell, donate a few hours in our Thrift Shop each month, help a child learn to read, celebrate monthly birthdays at a memory care facility, or share your expertise.  We would appreciate your help.
VOTING:
Attend regular, annual, and special chapter meetings

Work in the Thrift Shop

Participate in and support the philanthropic programs and




fundraising activities of the chapter

Pay annual dues:

First Year:  $75

Renewal:   $60
We're Proud of Our Members!
ADA EDWARDS LAUGHLIN AWARD
2006  Sarah Loffredo
2007  Kathy Krause
2008  Marilyn Brandon
2009  Rhoda Singleton
2010  Patti Wojcik
2011  Kaaren Tucker
2012  Linda Ledbetter
2013  Linda Meehan
2014  Joyce Spitznogle
2015  Carolyn Knipp
2016  Karla Dern
2017  Joan Mason
2018  Gail Greenly
2019  Jana Springer
2020  Pat Holland
2022 Gail Fuller
RUTH KLEINSMITH AWARD
2008  Carolyn Heald
2009  Beverly Sutton
2010  Claire Donnelly
2011  Anne Foster
2012  Flo Byam
2013  Bonnie Pearson
2014  Selma Guthner
2015  Larry Pruitt
2016  Jo Hatley
2017  Joanne Harrah
2018  Terri Anderson
2019  Candy Prater
2020  Peg Ball
2022 Carol Palmer