OUR CHAPTER HISTORY
Assistance League of San Luis Obispo County was incorporated in 1991 and chartered as the 95th chapter of National Assistance League® in 1996. Operation School Bell® was adopted in 1995 as its philanthropic program. Operation School Bell provides a most basic need – clothing. Since 1995 more than 28,000 students from low-income families have been provided with school-appropriate clothing throughout San Luis Obispo County.
We are an all-volunteer organization with over 136 member volunteers and no paid staff. We have been able to successfully administer, staff and fund our program for 24 years. In 1995, our first year of Operation School Bell, we clothed 100 children. Each successive year, through budgeting and working with purpose and determination, we have clothed more and more students through our primary philanthropic program, Operation School Bell. In addition to new clothing, we have added sub-programs that provide the students with dental hygiene kits, new grade-appropriate books, and tote bags filled with grade-appropriate school supplies.
In April 2015, the chapter opened its Thrift Store at 667 A Marsh Street in San Luis Obispo. It is staffed entirely by our member volunteers. The Thrift Store is a key source of funding to support our chapter and its philanthropic programs. The additional revenue has allowed us to continue to serve more students in need in our County and to increase the amount spent on each student.
HISTORY OF OPERATION SCHOOL BELL
Ruth Ann Montgomery was the founder of Operation School Bell.  In 1954 she was a school teacher in Southern California.  She noticed that children from certain families had irregular attendance. She discovered that they had a limited number of clothes for school.  The children attended school on the days when it was their turn to wear the clothes.  Ruth Ann started scavenging clothes from family and friends.  She began clothing these children out of her classroom closet.  It was called the "Clothes Closet."  She knew that if children could not attend school they could not achieve academically and socially.
When she moved to Bakersfield in 1955 she revived the "Clothes Closet" and renamed it Operation School Bell.  In the spring of 1957 Ruth Ann Montgomery, who had studied other nonprofit organizations to merge with, chose National Assistance League®.  In 1958 National Assistance League adopted Operation School Bell as a philanthropic program.  Today every chapter of Assistance League is required to have an Operation School Bell program tailored to its community's needs.
At the time of Ruth Ann's death in 2011, 3,278,330 children had been clothed through Operation School Bell.  Today that number is more than 4,000,000. This all started with one woman who cared about someone else's child.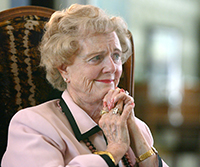 Ruth Ann Montgomery