Donate
Since we are an all-volunteer organization, 100% of our proceeds go directly to support our community based programs
*Due to Charitable Solicitation Registration requirements, Assistance League of Arcadia is only able to accept OUT-OF-STATE donations from these states: Delaware, Iowa, Idaho, Indiana, Montana, Nebraska, South Dakota, Texas, Vermont, Missouri and Wyoming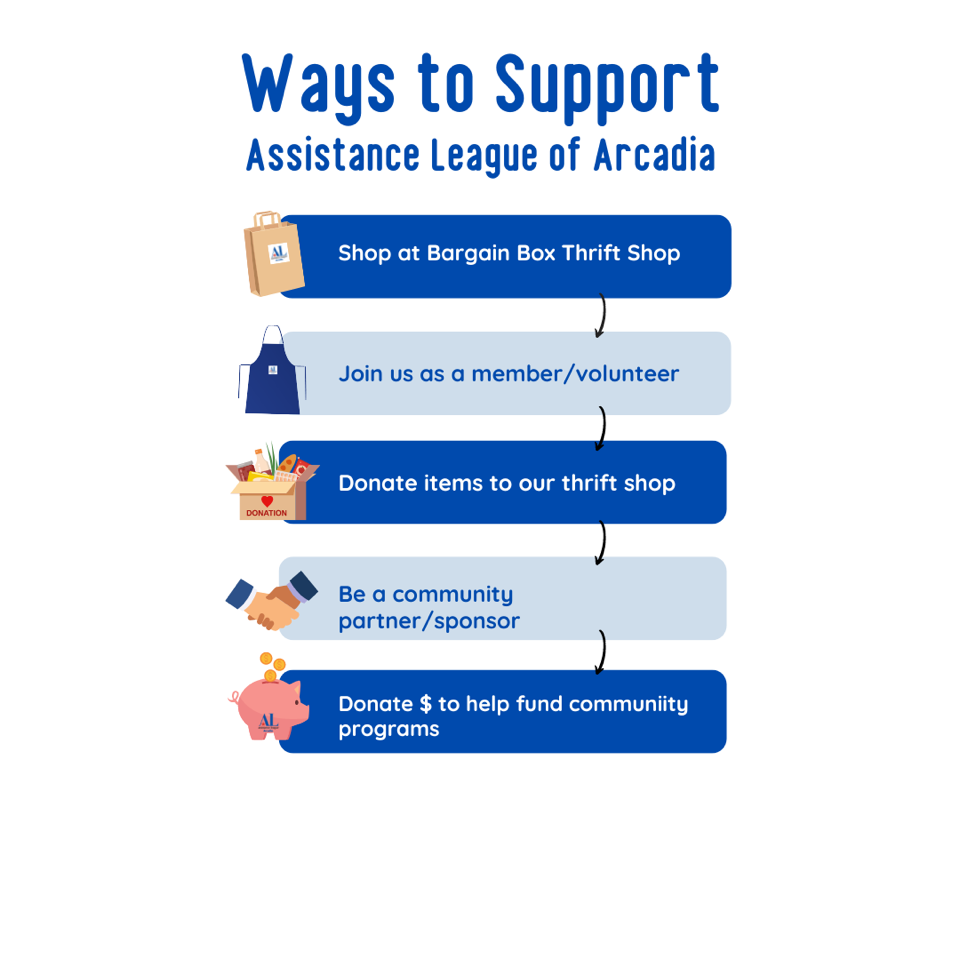 Monetary Donations Can be Sent to:
Assistance League of Arcadia
100 S Santa Anita Avenue
Arcadia, CA 91006
Please include a return address for your tax-deductible receipt. Designate a specific program if desired.
*Your donation may be tax deductible. The chapter may publish the names and/or amounts of a donation in such publications as the community newsletter, Annual Report, and on our website.
If you do not wish to have your name/amount published, please inform us at the time of donation.
Donate Gently Used Clothing and Household Items:
Bargain Box Thrift Shop
64 E Live Oak Avenue
Arcadia, CA 91006
Donation Hours: 9:30-12:00 Monday, Tuesday and Saturday
(626) 445-2861
Thank you to our Donors and Community Partners:
Alhambra Unified School District – Almansor Center – Arcadia Association of Realtors 
Arcadia Chamber of Commerce – Arcadia Chinese Association – Arcadia Community Coordination Council 
Arcadia Council PTA – Arcadia Elks Lodge #2025 – Arcadia Fire Department – Arcadia Firefighter's Association 
Arcadia Masonic Lodge #278 – Arcadia Police Department – Arcadia Police Officers' Association
Arcadia Public Library – Arcadia Recreation Department – Arcadia Unified School Department 
California Thoroughbred Horseman's Foundation – ChapCare Clinics – Chase Bank Arcadia Branch 
Downtown Arcadia – Duarte Unified School District – Elizabeth House 
Family Promise San Gabriel Valley – Foothill Unity Center – Friendship Club 
Golden Seniors Club – Monrovia Unified School District – Purist Club 
Rosemead School District – San Gabriel Unified School District – San Gabriel Valley Association of Realtors 
Santa Anita Park – Senior Bridge Club – Senior Mens' Club 
Sycamores – A better life –Temple City Unified School District – Trinity Youth Services 
Union Station Pasadena