Thrift Shop
Shop for a Cause in the Heart of Arcadia
We Are Here to Welcome You!
Our thrift store is a one-stop shop staffed by friendly member-volunteers of Assistance League of Arcadia, where one-of-a-kind items are always available.  You are sure to find great bargains on new and gently-used clothing, household items, luggage, dishes and glassware, linens, bedding, furniture, towels, etc. We have a "Best of the Box" boutique and beautiful jewelry on display.
The second Wednesday of November, we hold our amazing annual Holiday Sale.  It is our biggest fundraiser of the year.
All proceeds from Bargain Box sales, donations, and grants are used to fund our philanthropic programs.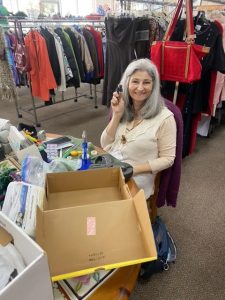 We gladly accept new or gently-used, clean merchandise.
Donations are tax-deductible, receipts are provided.
If you are cleaning out your closets, please think of us as we strive to make our community stronger!
We appreciate:

Women's & Men's Clothing, Coats & Shoes, Purses & Scarves
Jewelry, Kitchenware, Household Goods, Home Decor
Artwork, Books, Small Furniture & Lamps, Gifts & Greeting Cards
Holiday & Seasonal Decor
Open Wednesday and Saturday 10 AM – 1 PM
Donations Accepted:
Monday, Tuesday and Saturday 9:30 AM – 12:00 PM