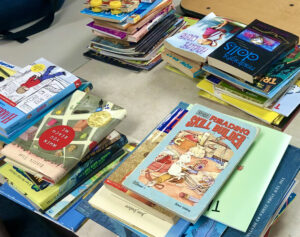 Books and Beyond, formed in 2021, is the newest program of Assistance League of Bellingham serving preschool through 12th grade.  The purpose of this program is to coordinate with local school districts as well as other local non-profits for the promotion of literacy programs.
The program is divided into two segments; some members tutor children in the classroom and another group works with the distribution of used children's books that are donated to the chapter.  Volunteers in the classroom look forward to helping students develop better reading skills beginning this October.
Members working with the used children's books coordinate their efforts with another local non-profit, Kids Need Books, for distribution of books to Whatcom County disadvantaged families in migrant worker camps, local pop up food banks and school literacy festivals.
We are happy to report that 625 books have been donated to the Kids Need Books Program by Assistance League members and our Thrift & Gift Shop customers. The books will be given away at Bellingham High School during Back to School Night, August 21, 2021.