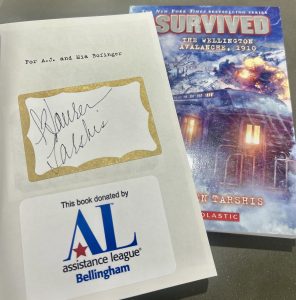 Members of the BOOKS AND BEYOND Committee, newest program of Assistance League of Bellingham, recently joined with librarians and author, Lauren Tarshis, at an Alderwood Elementary book event.
Lauren Tarshis gave a presentation to the students as part of a collaboration with Scholastic and Village Books. The "I Survived" book series is very popular with third, fourth and fifth graders. The author interacted with the students and told about her experience in becoming a well known author.
Books and Beyond was able to purchase books for each of the students in the three age groups, so they could have their very own book, a total of 122 books. The opportunity to help young readers experience the thrill of meeting a favorite author, interacting with her, and taking one of her books home will have an everlasting impression on them for the rest of their lives. Books and Beyond has been very fortunate to join with schools districts throughout Whatcom County to highlight literacy.