Tammie Jo Shults
Tammie Jo Shults is an acclaimed airline captain and former United States Navy aviator. Her early interest in flying led to Tammie Jo to become one of the first female F/A-18 Hornet pilots in the Navy, after overcoming several obstacles due to her gender.
After concluding her Navy career, she became a pilot for Southwest Airlines. Tammie Jo's incredible history and talent received wide acclaim on April 17, 2018, after she successfully landed a Southwest Boeing 737 after an engine exploded at high altitude, plunging the airliner more than 18,000 feet in the first five minutes alone, causing multiple system failures and a rapid depressurization. The successful landing in Philadelphia saved 148 lives including passengers and crew.
Tammie Jo and her husband Dean live in Texas, and both Tammie Jo and Dean enjoy piloting planes for Southwest Airlines. They have two children and are committed to leading a faithful life. In Tammie Jo's spare time, she teaches Sunday school at her church and volunteers at a school focusing on at-risk youth. In addition, as of spring 2020, Tammie will be serving on the Women in Aviation Advisory Board to the FAA.
Lisa Marsh Ryerson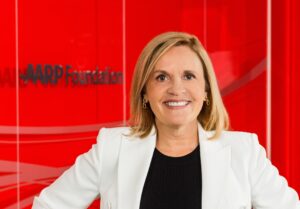 Lisa Marsh Ryerson is president of AARP Foundation, the charitable affiliate of AARP. A bold, disciplined and collaborative leader, she sets the Foundation's strategic direction and steers its efforts to realize an audacious vision: a country free of poverty, where no older person feels vulnerable. Since she took the helm, AARP Foundation has implemented pioneering initiatives, explored new avenues for collaboration, and secured unprecedented funding to support programs and services that truly change lives. In its last three-year strategic plan, AARP Foundation generated over $5 billion of income for older adults through work and jobs, tax refunds and credits and food security benefits.
She also has served on the boards of numerous higher education and nonprofit organizations, including the Council of Independent Colleges, Southern New Hampshire University, Shriver Center on Poverty Law, the Congressional Hunger Center, and National Women's History Museum.
Ms. Ryerson has spearheaded innovative partnerships with other organizations to create and advance effective solutions that help vulnerable older adults increase their economic opportunity and social connectedness. Before joining AARP Foundation, Ms. Ryerson served as the president and CEO of Wells College in Aurora, N.Y.