In May, we created inspirational quotes for snack bags that will be distributed to CISD students by CISD faculty members.  We are currently working on classifying books collected during our book drive to be used for tutoring elementary students, restocking the patient library at Children's Medical Center or resupplying the Little Free Libraries in Coppell. 
At our April meeting, Dr. Brad Hunt, superintendent for CISD, joined us for a Zoom meeting. It was very informative and he was very informative and answered all our questions.
At our March meeting, we had a virtual meeting to discuss how we can assist our community through these difficult times.
At our February meeting, we made pocket scarfs for the seniors at River Oaks Assisted Living.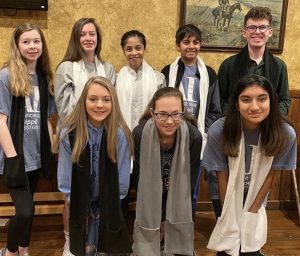 At our January meeting, we made heart-shaped pillows for the attendees of "Night to Shine", an unforgettable prom night experience for people with special needs ages 14 and older.
What a great time for all at our October meeting. We assisted in preparing items for the Assistance League Holiday Home Tour which is held the first week of December.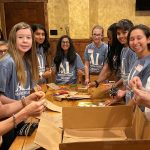 This group is open to students from grade 7 through 12, and will meet monthly. The group will determine the charitable programs and volunteer opportunities where it will participate. Read more.
If you have any questions or would like more information, email Debbie Hinson at: alcoppellmem@gmail.com