Assisteens®
Assisteens is Assistance League of Coppell's teen auxiliary. This group meets monthly and is open to students from grades 7th  through 12th.  Assisteens seek to instill the values of volunteerism and service within the community. This group determines the charitable programs and volunteer opportunities where it will participate.
This program is new to Assistance League of Coppell starting in September 2019.
If you have any questions or would like more information, email Debbie Hinson at: alcoppellmem@gmail.com
Click here to download the membership forms.
At our February meeting, pocket scarfs were made for the seniors at River Oaks Assisted Living.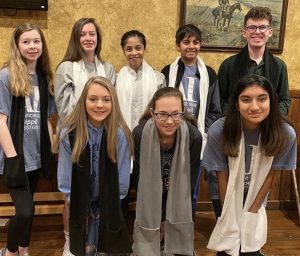 At our January meeting, we made heart shaped pillows for the attendees of "Night to Shine", an unforgettable prom night experience for people with special needs ages 14 and older.