Your Contribution, Small or Large, Will Make a Difference!
Assistance League of Fresno is a nonprofit 501(c)(3).  Your contributions are fully tax deductible.  We are an all-volunteer organization therefore your contribution is maximized.  All donations stay in the Fresno area, benefiting adults and children in need through our philanthropic programs. Your gifts are greatly appreciated.
We are proud to be a GuideStar Exchange Gold Participant!  Click on the GuideStar logo to review the Nonprofit Report on Assistance League of Fresno provided by GuideStar Exchange.
Individual Donations
Contributions can be made by check.
Please mail checks to:
Assistance League of Fresno
2037 W. Bullard Ave., PMB 306
Fresno, CA 93711-1200
Thrift Shop Donations
Proceeds from our Thrift Shop help fund our philanthropic programs.  Bring your donations of new or gently-used items to our Thrift Shop at 4771 N. Blackstone Ave, Fresno.  Stay to shop.  We offer quality merchandise at affordable prices.
Hours:
Monday thru Wednesday: Closed
Thursday thru Saturday: 10:00 AM – 4:00 PM
Sunday: 1:00 PM – 4:00 PM
Help Us Clothe More Kids!!
We have exciting news on how our chapter can potentially clothe hundreds more children each year in our community! In 2013-2014, we kicked off Corporate/Community Partners Program! Corporate/Community Partners packets are available now. Be the first to get your packet to find out how you can help school children in need in our community receive brand new clothing so they can attend school.  Contact us for more information about our Corporate/Community Partners Program.
Special Thanks to our Operation School Bell's
Business Partners and Friends
who donated fy 2021-2022
Match Donor $25,000
Benito & Frances Gaguine Foundation
$10,000 +
Patricia Meyers
Smittcamp Family Foundation
$5,000 +
Fansler Foundation
Shop N Go, Inc.
Partnerships $5,000 +
Fansler Foundation
Shop 'N Go
$3,500 +
Norma Ault
Julie & Rick Skaff
$2,000+
Peter & Janet Bunting
Central Valley Community Bank
Ann Fugelsang
David & Janet Villadsen
WestAmerica Bank
$1,000 +
Bruce & Madeline Droz
Bob & Bestsy Kimball
Tracy & Annika Pitcher
Enterprise Car Rental
William & Karen Podolsky
Fresno Women's Trade Club
Valley Iron, Inc.
Supporters $500 +
Mona Avila
Bonadelle Homes, Inc.
Clovis Rotary
Jerry & Paula DeYoung Properties
Diane & Raymond Eggebratten
Laura Folland
Pat & Cathy Gordon
Patricia Harrold
Linda Hendrix
Dan & Carol Jackson
Timothy & Lynette Mazzella
Eric & Micoel Patten
Dona Pestorich
Sandy Ross
Sharon Shaghoian
Jim & Kimi Shehadey
Sally Thiessen, State Farm
Edwin Hsu & Wendy Yeh
UBS Bank Employee Program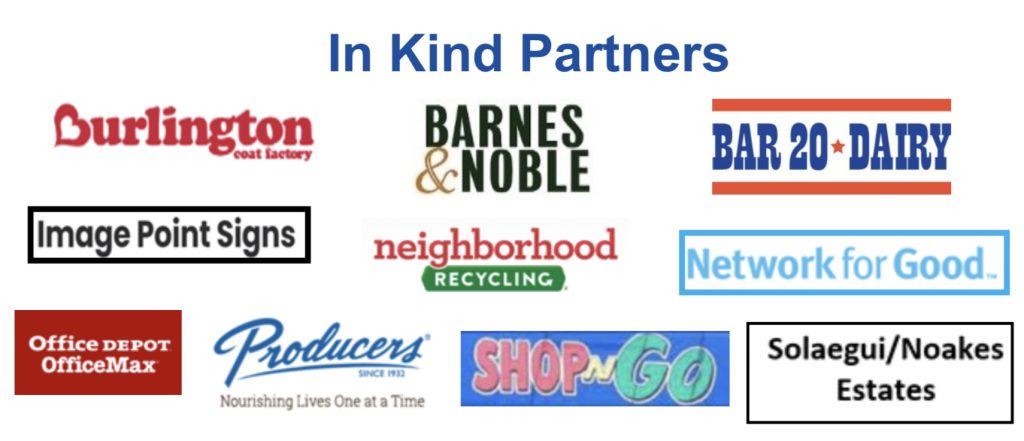 Burlington **Barnes & Noble **Image Point Signs **Neighborhood Thrift **Office Max/Office Depot **Producers Dairy **Shop 'N Go, Inc. **BAR 20 Ranch ** Solaegui/Noakes Estates **Individual Fundraising for Birthdays, etc. Network for Good