Direct Mail Fundraiser
Direct Mail Fundraiser is Assistance League of Fresno's direct mail solicitation letter.  One hundred percent of the tax deductible donation is used to fund our philanthropic programs Operation School Bell®, Operation Bear Hug, Operation Gift Box, Dream Dress, Busy Hands and Outreach.
Action! Week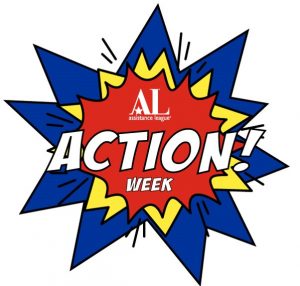 ASSISTANCE LEAGUE FRESNO ACTION! WEEK
PROMOTING LITERACY AND KINDNESS
WHO:     All Volunteer, Non-Profit Assistance League Fresno
WHAT:    Donating 700 Pre-K-6 Books and Acts of Kindness Flyers
WHEN:   February 25, 2020 8:30 a.m.-10:30 a.m.
WHERE: King Elementary School 101 E. Florence Ave. Fresno, CA 93706
WHY:     To nurture youth, honor diversity and perpetuate kindness
Please join our members and partner organizations who are transforming lives and making a difference in our community!