Direct Mail Fundraiser
Direct Mail Fundraiser is Assistance League of Fresno's direct mail solicitation letter.  One hundred percent of the tax deductible donation is used to fund our philanthropic programs Operation School Bell®, Operation Bear Hug, Operation Gift Box, Dream Dress, Busy Hands and Outreach.
Action! Week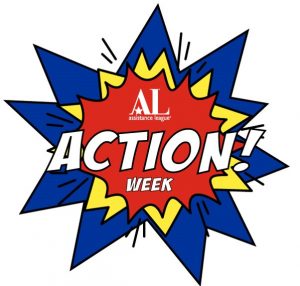 ASSISTANCE LEAGUE FRESNO ACTION! WEEK
PROMOTING LITERACY AND KINDNESS
Assistance League of Fresno participated in Action! Week on Tuesday, February 25.  Our focus was to nurture children through reading, honor diversity and perpetuate kindness.
Every student in Pre-K through the 6th grade chose a donated book during three assemblies at King Elementary School on Anne Banning's birthday, February 25, and in conjunction with Black History Month.  Students were encouraged to participate in and promote a human kindness project, which will run through the end of the school year, involving random acts of kindness flyers.
Our Assisteens labeled 742 books we purchased from Scholastic Literacy Partners, baked more than 1000 cookies and Producer's Dairy donated milk for 675 attendees.
Community partners, the Fresno Metro Black Chamber of Commerce, and trustees from the Fresno County Board of Education were in attendance.  Each presented encouraging and thoughtful words to build confidence and inspire King's students.  Our own Miss Kimi Shehadey read books on kindness to our audience, and all were totally engaged and excited.
The youngsters were so attentive, well-behaved and appreciative.  The interaction through reading aloud, engaging conversation about connection through kindness, aiding each student choosing a book and the serving of homemade cookies and milk were received with such joy.  The school was ecstatic!  Genuine thanks to all who donated time and money to make our event such a success!!
We are not allowed to show students' faces without permission; however, we were able to take some candid shots.  Wish we could have shown their bright and smiling faces!!