Operation School Bell
School based programs meeting unmet needs of children throughout the Greater Sacramento area.
Find Out More
Each year over 16,000 children are clothed for school from Operation School Bell.
Helping Shape The Future
Cameron Ranch Elementary Principle, Aliceon Sloss says...
…the support you have offered our learning community has helped us tremendously, from the books for our Falcon Awards, school supplies, clothing, backpacks, toiletry kits and the list goes on.
Please share our humbled gratitude to your entire Assistance League family for making a difference in the lives of our students. You are dearly appreciated.
Warmly,
Aliceon Sloss, M.Ed.
Principal, Cameron Ranch Elementary
San Juan Unified School District
Operation School Bell Programs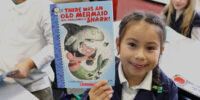 LITERACY – Helping Shape the Future Through Improved Reading Skills
15,461 new and gently used books distributed the 2022-23 school year. Every child in grades K-3 in 39 schools in four districts received their own book to take home. Many of these children have no pleasure reading books in their homes and have never owned their own book.
EYES RIGHT
Preschool children in local schools are screened to detect a number of possible vision problems, particularly amblyopia. When appropriate, we recommend that the child be examined by an eyecare professional.