Assistance League of Sacramento's
Fabulous Finds on Fulton
2751 Fulton Ave
Sacramento, CA 95825
(916) 488-0828
Click here for Google Map
HOURS
Mondays thru Saturday 10:00 AM – 4:00 PM
Open Friday evenings until 6:00 PM
BECOME A THRIFTY SHOPPER WITH US
Earn rewards toward future purchases
POLICIES
We have a NO RETURN policy on all items purchased.
UPCOMING EVENTS
June 9               $ 15   Women's Three-Piece Outfit
June 16             25 % Off Men's Department
June 23             Cookbooks & Kitchen Appliances
June 30             Book Grab Bag
RECEIVE ADVANCE NOTICE OF SPECIAL EVENTS AND SALES
Great Reputation, Quality Merchandise
and Friendly Member Volunteers!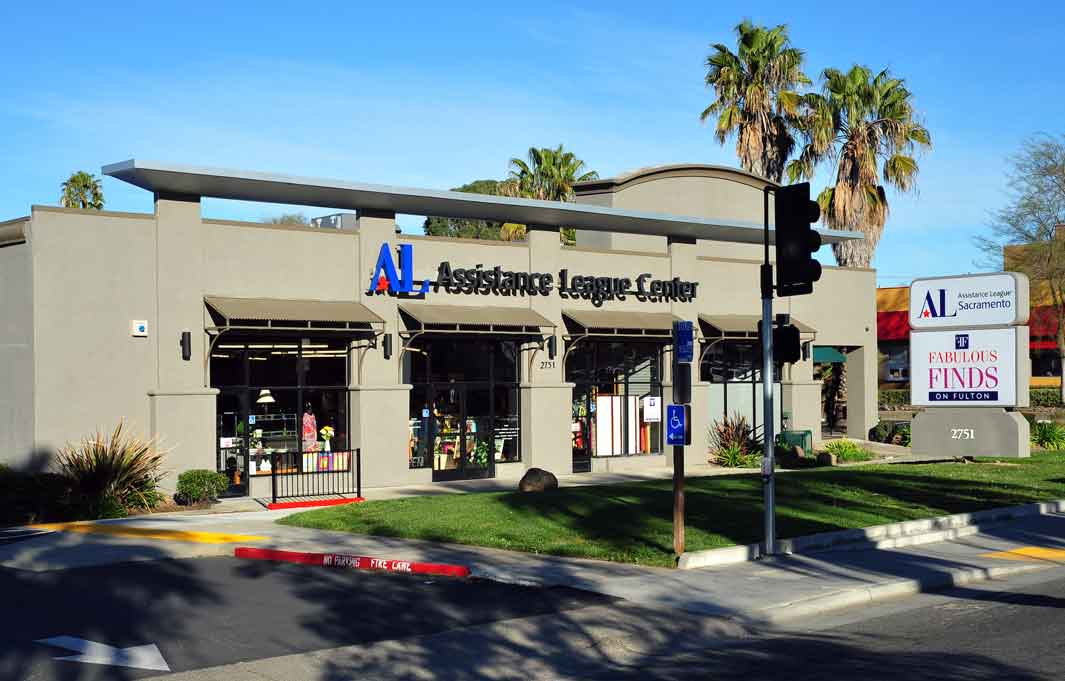 Fabulous Finds on Fulton serves two important purposes. It is the main fundraiser for the chapter, which currently supports eight philanthropic programs. Our resale shop also provides the community with affordable quality clothing, housewares, furniture, small appliances, books and an array of other items. Customers are drawn to our Signature boutique area, which offers a wide selection of designer goods. The spacious selling floor and selection of attractively displayed merchandise makes Fabulous Finds a positive shopping experience for our customers.
It is staffed and managed entirely by our member volunteers.  We are proud of our reputation as one of the best and friendliest thrift shops in the region. Our members work hard to make sure the merchandise is always good quality, clean, and priced fairly.  Come see for yourself!
FOR A VIRTUAL TOUR CLICK BELOW
Shopper's Comments
"Extremely clean merchandise, attractively displayed. Some high end clothing at low prices. New merchandise daily. Friendly ladies work the shop and proceeds go to charity."
"What a surprise as I walked in the door to the most classy thrift store I've been to. Greeted by a volunteer. Displays looked very Professional. I didn't know where to start as everything looked so nice. All items very affordable. Very friendly and SMILING volunteers. I'll be back soon. Can't wait to tell my friends."
"Your staff makes you feel important. My mom came in one day after a death in the family … she was just being idle. When she returned home she was herself again. She said someone there made her feel special and important."
Resale Shop Donations
Your donations are always appreciated and are the source of merchandise for our resale shop!  Donations are tax deductible; a receipt will be provided.
Please bring your "gently used" items to the receiving door located at the rear of the building.  Ring the doorbell, wait, and we will assist you in dropping off your items.
For safety reasons, donations are accepted only during the following hours:  Monday-Friday 10:00 AM – 3:00 PM, Saturdays 11 AM – 2:00 PM.  Please, do NOT leave items outside when we are closed, as they will be damaged by the weather.
Donation Guidelines
Please, NO broken or damaged household items.
Please, NO significantly damaged, torn, or stained clothing items.
Due to space limitations and regulations we can NOT accept the following items:
Mattresses
TV's, computers, or printers
Encyclopedias
Cars or motorcycles
Large exercise equipment
Baby cribs, infant car seats
Hazardous materials, such as paint
Members work hard to sort, clean, and price donations