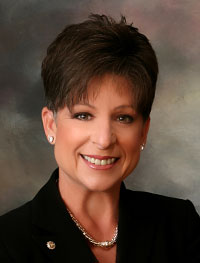 Maryann Edwards, her husband Tom, and 3 children under the age of 4 moved to Temecula, CA from Orange County in 1988.
Maryann has supported residents and businesses in Riverside County, California, (10th largest county in the nation) for the past 30 years in the areas of business development, education, public safety, transportation, economic development and legislative issues impacting local control.
In 1997 Maryann was appointed to serve as a Commissioner on the Temecula Public Traffic/Safety Commission, providing leadership and expertise in the construction of nearly one billion dollars in infrastructure, freeways and bridges in Southern California.
Because of her work as a founding advisory board member of the California First Five Foundation, Maryann was elected to the Temecula Valley Unified School District Governing Board (2000 to 2005).  During her tenure on the Board, she provided funding and oversight for the construction of nine school campuses, including the $96 million International Baccalaureate Great Oak High School. Great Oak is the highest ranked high school in Riverside County and in the top 4% of public high schools in the United States.  While serving on the Board, Maryann earned her Masters in Governance and was recognized by the California School Boards Association for her outstanding advocacy for children and education.
With more than 15 years of public service at the local, county, state, and federal levels, in 2005, Maryann was elected to the Temecula City Council.  Of her many accomplishments, she was invited to participate on President Obama's White House Summit on Education. She represents Temecula's 114,000 residents at home and also the don the Riverside County Transportation Agency Board, the Western Riverside County Association of Governments, the Riverside Conservation Agency, and the Riverside County Habitat Conservation Agency. Maryann is the only person in City history to have served as a Commissioner, School Board Member, and now City Council Member and Mayor. She is one of only two women in city history to serve as Temecula's Mayor, and has served three times in that office – 2009, 2014, and 2017.
Maryann joined the Assistance League of Temecula Valley in 1992 and continues to serve the chapter as a Sustaining Member. She has served in the capacities of Secretary, Historian, Public Relations Chair, President in 1997-98, and is currently a Chapter Advisory Board member.  As a former professional singer working for Disney, she uses her talent and persona to raise funds for numerous charities including Assistance League of Temecula Valley, Susan G. Komen Breast Cancer Foundation, Rotary Clubs, and Safe Alternatives for Everyone benefitting victims of domestic violence.
On October 16, 2018, Maryann and "Dr. Tom" celebrated their 43rd wedding anniversary. Together they survived Tom's completion of law school at night while working full time during the day, the birth of three children within 36 months (Congratulations! It's twins!), the planning and construction of two historic antebellum homes, the hanging of hundreds of yards of wallpaper, the graduation of all three children and their college years, three government appointments, and six elections resulting in more than 30 years of loving community service by the entire family.
Serving our fellow residents in the city I have loved and served for nearly 30 years is a joy and a true labor of love. I am honored to have played a small part in Temecula's carefully planned growth into the beautiful city we all know and love today as Southern California's Wine Country. Whether as a public official or grateful volunteer, I will continue to serve our beautiful city and its residents in every way possible for the rest of my life."
Professional Employment
Edwards and Associates, Crisis Communications/Public Relations
District Director, California State Senator Jeff Stone
Public Affairs Director, San Diego Gas and Electric
Vice President, Mission Oaks National Bank
President & CEO, Boys and Girls Clubs of Southwest County (5 clubs)
District Coordinator, Career Technical Education & Community Engagement
Temecula Valley Unified School District (30,000 students)
Director of Operations & Community Development, Temecula Valley Economic Development Agency
Elected and Appointed Offices
Mayor, Temecula (2009, 2014, 2017)
City Council Member, Temecula
Board Member, Temecula Valley Unified School District
Member, President's White House Summit on Education
Commissioner, Temecula Traffic/Public Safety Commission
Director/Exec.Committee, Cal State University San Marcos Foundation Board
Director, Western Riverside County Association of Governments
Director/Exec. Committee, League of California Cities Riverside County Division
Director/Chairman, Southwest Cities Financing Authority
Director, RTA (Riverside County Transportation Agency)
Vice Chairman, Riverside County Conservation Authority
Vice Chairman, Riverside County First 5 Commission Advisory Board
Chairman, Regional Cancer Task Force
Chairman and Author, "Responsible Compassion" Regional Homeless Alliance
Charitable Organizations
VFW Veterans of Foreign Wars Auxiliary –  Lifetime Member
Founding Director, SAFE (Safe Alternatives for Everyone)
Founding Director, Rose Again Foundation (serving Foster youth)
Director, Susan G. Komen Breast Cancer Foundation
President & Sustaining Member, Assistance League of Temecula Valley
President & CEO, Boys & Girls Clubs of Southwest County
Vice President, Murrieta/Temecula Legislative Action Group
Advisory Board, Rose Again Foundation
Member, Rotary Club of Temecula Valley
Chairman, PTA Temecula Valley
Steering Committees
Old Town Renovation Committee
Ronald H. Roberts Public Library Committee
Murrieta Creek Restoration and Flood Control Committee
YES on C Committee
Promenade Mall Community Advisory Committee
Children's Museum Planning Committee
Riverside County Integrated Plan
YES on S Committee
Awards and Recognition
Woman of the Year, 75th State Assembly District
Woman of Merit, San Diego Union Tribune/The Californian
Citizen of the Year, Temecula Valley Kiwanis
Temecula Good Neighbor of the Year, 1997 and 1998
Honorary Service Award, California State PTA