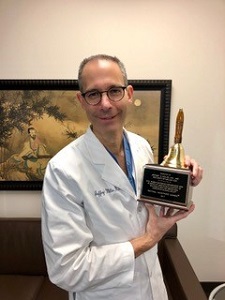 Miller Vein is a local medical facility, staffed by specialists who create a variety of state of the art vein treatments. For the past 3 years, Miller Vein has volunteered at our Operation School Bell® elementary school distributions. Dr. Jeffrey Miller closes all of his 5 offices for one day and brings his entire staff to help students shop for the new items our chapter provides. Arriving early, they assist our members in unloading the trucks and setting up the room to resemble a store. Each volunteer is paired with a student to make this a magical shopping experience, not only for the student, but for the volunteer who comes away knowing that a child will have a warm winter coat plus all the necessities to boost self-esteem.
In addition to being a community volunteer, Dr. Miller and Miller Vein have been a Platinum Sponsor at our annual fundraising event, Mistletoe Marketplace, which is held every November. The award presentation took place at our 2017 Mistletoe Marketplace luncheon attended by 723 guests. Unfortunately, Dr. Miller was unable to attend but Rosemary Dirksen, Chapter President, presented the award to Andrea Hollingsworth, Marketing Director of Miller Vein, and staff members Becky Soma, Christopher Schmid and Michelle Monahan. The presentation was made again to Dr. Miller in his office at a later date.
Dr. Miller and his staff have gone beyond in helping our chapter make a difference in the lives of the students we serve. It is because of this commitment, we are proud to present to them the National Assistance League Operation School Bell Award.