A Special Shopping Event!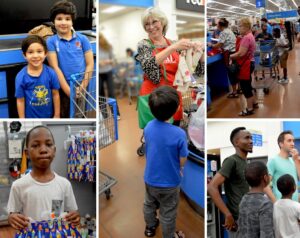 Imagine having to start school in a strange country with a new language and only the shirt on your back as you arrived. That was the plight of almost two dozen children who recently arrived in Reno, Nevada. Assistance League was delighted to sponsor a special shopping event before school starts so these kids could start off school with a smile on their faces. We worked with the Northern Nevada International Center, who provided translators and transportation for 22 children from seven families from the Mideast, Africa, and Ukraine.
Assistance League volunteers helped each family pick out their items and keep track of their total spending at a local Walmart, then accompanied them to the checkout register. You can see the delight on our volunteers' faces as these children had their first "real" USA shopping trip.