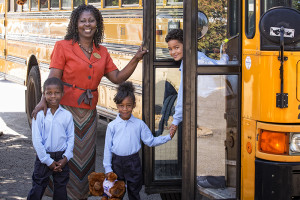 To give children in-need a real "shopping experience" with greater clothing selections, many Assistance League chapters have switched from clothing school children in-house to retail shopping. Collaborating with a store, chapters set up a plan to meet the students at the selected store.
How this is accomplished varies from chapter to chapter. Usually, the selected children are brought to the store by their parents at a scheduled time. Volunteer members help the children select their new school wardrobes. Money allotted per child can depend upon the child's grade level, the chapter's budget and the store's discounts.
The bottom line is smiling, happy children waiting to wear their new clothes to school, proud, beaming parents and Assistance League volunteers who are pleased to be Assistance League members.
Assistance League of Omaha was fortunate to have a community volunteer design a computer program for scheduling children for their shopping experiences. This enabled the chapter last year to clothe almost 3,500 students in Kindergarten through grade 8 in one store in 12 days. At checkout time, each child received a new book of their choice.
The Greater Portland chapter clothes schoolchildren in different ways.  Selected children, Kindergarten through grade 5, from 28 schools, are clothed in their building, where each child receives a jacket, 2 shirts, 2 pairs of jeans, 6 pairs of socks, 6 pairs of underwear, a $22 shoe voucher, a book of their choice and a dental kit.  For children in Kindergarten through grade 5 in 28 schools in another district, counselors send the chapter required information that enables members to package new clothes for each child selected. The school district picks up and delivers the clothes to the schools. Assistance League of Greater Portland also sets up retail shopping at local chain stores for children in grades 6 through 12 in January. Between taking advantage of seasonal sales and the extra 10% discount the stores give them, students can buy a few extra pieces for their wardrobes.
Assistance League of San Antonio dresses their Operation School Bell® children on their premises in a lovely wing, where clothing is hung-up as in stores. The children have shopping "sacks" for their new clothes and try on their selections in dressing rooms before leaving the facility. Each child receives two complete outfits, a school box, toiletries, underwear, socks and a jacket. A new book is included in each sack; every boy takes home a belt.
Mecklenburg County schoolchildren wear uniforms to school, so Assistance League of Charlotte dresses their Kindergarten through fifth grade children in uniforms: two shirts and two pairs of pants.  In addition, each child selected, based upon need by school counselors, receives a jacket, a pair of shoes, socks and underwear. Upon leaving the center, children choose a new book and receive a hygiene kit.
Every chapter's Operation School Bell program meets the needs of the students in their communities. Each program is designed to provide the clothing children need to keep them warm and in school.
From coast to coast, over 90 Assistance League chapters run thrift shops to raise money to fund their Operation School Bell program and other philanthropic programs. For children not selected to be clothed by the program, thrift shops that carry children's clothes offer sales just before school begins. Assistance League of Charlotte sells uniforms in their shop at just a little above cost, while Assistance League of San Antonio has school supplies on sale in their thrift shop.
You can help support Operation School Bell and other programs by checking to see if there is a chapter in your area and if it has a thrift shop. Then, by donating gently used items and/or shopping in that shop, you, too, can be part of keeping children in your community in school.