The Festival of Lights Parade sponsored by the Auburn Chamber of Commerce is a "shining display" of community holiday spirit.  Our AL Greater Placer volunteers have been part of Auburn's FESTIVAL OF LIGHTS PARADE for many years, and the tradition continues. This year's parade was held Saturday, December 3rd.  Our lighted parade entry showcased our Kids on the Block® puppets inside a schoolhouse with school desks and a prominent bell tower.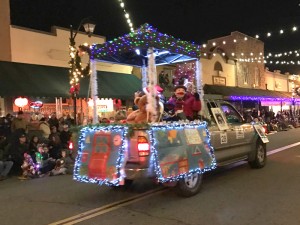 Our warmly dressed and gloved, parade participants enjoyed the crowd's excitement in seeing our main attraction, the three puppets, Melody, Eddie, and Clare.
It was a COLD and clear night, but spectators and participants alike were delighted by over 100 parade entries focused on this year's theme, "Let it glow…Let it glow…Let it glow".
The children's smiles kept us warm.