Assistance League of Greater Placer Thrift Shop
1263 Grass Valley Highway
Auburn CA 95603
Contact us
(530) 885-1982
shop@algreaterplacer.org
Click here for  

Want to know about our sales and events? Click here.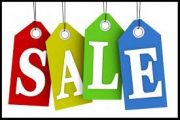 Hours
Tuesday, Thursday and Saturday
10:00 AM – 2:00 PM
Closed Sundays, and holidays
Donations accepted:
By Appointment: (530) 885-1982

Great Reputation, Quality Merchandise,
and Friendly Member Volunteers!
The Thrift Shop is our "happy place", the main source of funding for our 13 philanthropic programs, staffed and managed entirely by our member volunteers. We are proud of our reputation as a Boutique Style Thrift Shop, where everyone is having a good time. Our members take great pride in our quality merchandise, working hard to ensure it is clean, and priced fairly. You will be impressed as soon as you step in the door.
We offer a wide variety of the finest merchandise, including antiques/collectibles, men's, women's, and children's apparel and shoes, books for every age, baby clothes and accessories, sporting goods, toys, housewares, linens, home decor, seasonal items, and jewelry, all at affordable prices. Our "Boutique" racks contain better clothing lines, some never even worn. We also offer interesting pieces of furniture, small and large.
Shop on Ebay and PoshMark!
We now have stores on Ebay and PoshMark where you can shop in the comfort of your own home! Check our stores often for newly added items. Click on the links to go directly to our stores!
https://www.ebay.com/usr/algreaterplacer
Our Latest Improvements For Reopening
We have been busy restocking, sanitizing, refreshing our merchandise to give our Thrift Shop a fabulous new look. New sanitization and safety guidelines are in place including wearing those new fashion accessories – face masks! We look forward to seeing you!
Come in and see the New Arrivals!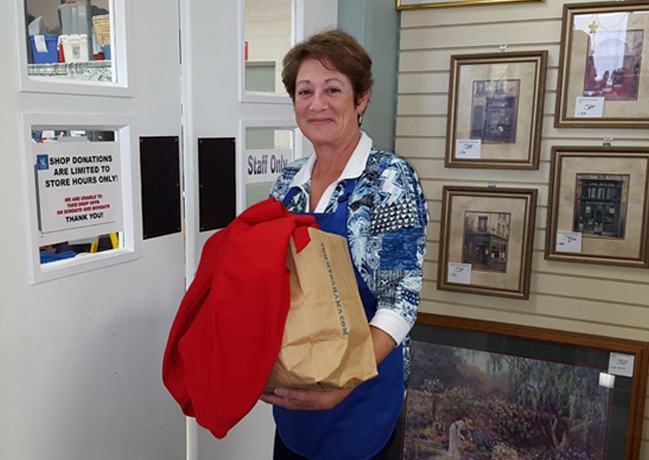 New Donations always Appreciated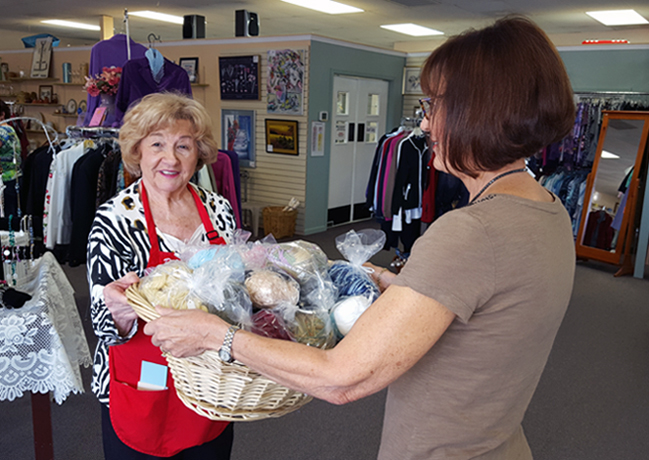 We accept Donations with a Smile!
WANT TO RECEIVE OUR THRIFT SHOP SALES AND EVENTS NOTIFICATIONS?
Learn about our Thrift Shop's spectacular sales and events! Signup here and receive information by email. You may unsubscribe at any time.
Thrift Shop Donations
Our volunteers work hard checking through all donations for usable items. The Thrift Shop has a reputation for quality items, clean, new and near new. Please help us by following our list of acceptable items. If you arrive with a large donation, before bringing it in the Shop, ask for a Manager to look it over.
THANK YOU for thinking of us and helping to support our philanthropic programs, your donations are greatly appreciated.
Acceptable Donations Include:
Some furniture; for large pieces please send a photo to the Shop for approval
shop@ALGreaterPlacer.org
Ladies', men's, juniors' and children's clothing, clean and in good condition
Shoes and purses, clean and in good condition
Jewelry
Housewares (including kitchen items and knick-knacks)
Artwork
Linens
Décor
Full sets of dishes, full sets of glasses
Collectibles
CDs and DVDs
Tools in working condition
Appliances (small) new
Books in good condition
Toys
Please check the Donation Policy  for further details.