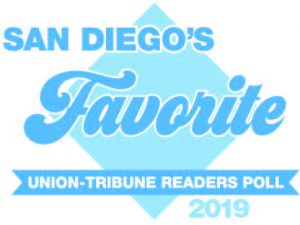 Assistance League of Greater San Diego Thrift Shop
108 University Avenue
San Diego, CA 92103
HOURS
Tuesday 11:00 a.m. – 6:00 p.m.
Wednesday – Saturday 11:00 a.m. – 4:00 p.m.
Sunday – Monday Closed
POLICIES
We have a "NO RETURN" policy on all items purchased.
ANNUAL EVENTS
Our Thrift Shop has two major shopping events each year: Our Early Christmas Boutique, and our Annual Treasure Bazaar.  These are events not to be missed!
Early Christmas Boutique
We would like to thank everyone who came out to shop at our Christmas Boutique November 12-16, 2019.  Because of your patronage, Assistance League of Greater San Diego is better able to serve your community with our many philanthropic programs.
Treasure Bazaar
Our Annual Treasure Bazaar is held each year in the spring, with entrance from our parking lot on First and University.  We feature fine jewelry, fine art, vintage clothing, linens, and collectibles of all sorts.  There will be treasures for everyone.
This year's Treasure Bazaar, originally scheduled for Saturday, March 21, 2020, has been postponed. Please check back for the new date of this great event!
TEMPORARY THRIFT SHOP CLOSURE
San Diego's Favorite Thrift Shop on the corner of First and University will be closed beginning March 17th and will reopen April 7th, in keeping with the desire to protect our loyal customers and our member volunteers from COVID-19.
By necessity, the ever popular Treasure Bazaar, originally scheduled for March 21st, is postponed until further notice, as is our Customer Appreciation Day planned for March 28th .
In keeping with CDC recommendations, please do not come out in order to leave your donations for the Thrift Shop. We will happily receive them at a later date and will keep you posted about that.
Thrift Shop Donations
WE HAVE TEMPORARILY SUSPENDED THE ACCEPTING  OF DONATIONS  
When we resume accepting them, you may bring donations to the rear door of the building during Thrift Shop hours, and ring the bell.  
At that time, we will welcome your donations of gently-used men's, women's and children's clothing; accessories; shoes; jewelry; artwork; household goods; books, CD's and DVD's.
Items that we CANNOT ACCEPT include: Baby Furniture, ie. cribs, walkers, highchairs, playpens, car seats, toys with small pieces; paint and cleaning supplies; pillows, mattresses and mattress pads; large electronics, such as computers and televisions.
Thank you for your understanding and support!