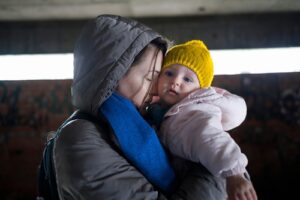 Baby Bundles Program with Santa Clara County Public Health Nurses
The Baby Bundles program is a stand-alone program outside the Operation School Bell Program umbrella. Assistance League of Los Altos partners with Santa Clara County Public Health Nurses (PHN) of the Santa Clara County's Valley Healthcare Organization to supply essential baby items to low-income families. During the counseling session with the new mother, the Santa Clara County Public Health Nurses distributes our 'Baby Bundles' in an Assistance League of Los Altos logo tote bag and assesses the newborn's health and home environment to ensure the baby is under good care.
The Baby Bundles' tote bag includes hand-made blankets, diapers, sleepers, washcloths, wipes, developmental toys, books, and baby equipment for the new mothers.
Our membership is enthusiastic about this program. We organize work parties within our membership to fill the totes with baby supplies along with home sewn baby blankets and knit infant caps. Our membership is in regular contact with the PHNs and has a deep appreciation for the work all the Santa Clara County Public Health Nurses are doing for the new mothers and their infants.
Foothill College is a public community college in Los Altos Hills, California. It is part of the Foothill–De Anza Community College District. It was founded on January 15, 1957, and offers 79 Associate degree programs, 1 Bachelor's degree program, and 107 certificate programs and has a diverse student body.  The Food Pantry program helps low-income students in Santa Clara County attending Foothill College. Due to the pandemic and virtual campus at Foothill College, the funds we donate are used toward purchasing $50 e-cards for students who are struggling with daily living expenses such as books, fees, food, and housing.