We are Assistance League of Stockton, an all volunteer, nonprofit organization that is dedicated to transforming lives and strengthening our community through  philanthropic programs.
We began as a guild in 1968 with a small group of dedicated women; in November 1973, we were chartered as Assistance League of Stockton, California becoming the 55th chapter of National Assistance League.
Through the years, we have worked to improve the lives of children in need through dental, cultural, basic-need, and literacy programs. 
Our philanthropic programs are funded by proceeds from our thrift shop, many donations from the community, and many generous grants.  Donations are always welcome and are tax deductible as we are a 501(c)(3) organization.
In the past forty-five years, our hardworking,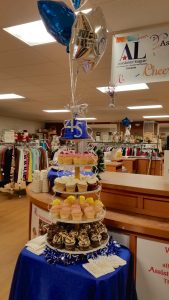 fun-loving member-volunteers have donated over half a million hours to benefit the Stockton Community in a variety of ways.  These pictures show our 45th birthday celebration.