Click here to watch Assistance League of Bend's Secret Santa program. We were also featured on the local news!
Northern Virginia – Holiday Luncheon
We recently held our annual holiday luncheon, a special event at which we reconnect with members, enjoy a meal together, and also hear from representatives from schools we serve regarding our programs.  This year, thanks to our multi-tasking member, Dorine, all attendees received a swag bag containing tasty munchies and a holiday ornament, and three […]
Assistance League of Wichita celebrates 35 years: TRANSFORMING LIVES. STRENGTHENING COMMUNITY. Seventy Assistance League members and donors gathered at their Wichita Thrift Shop on a glorious holiday afternoon for a celebration of serving our community. President Chris Reed and 35th Committee Chair Ruth Ann Koepsel welcomed the group. The excitement for 35 years of serving the […]
Greater Wilmington – Presents the Anne Banning Leadership Award
View Fullscreen Assistance League of Greater Wilmington presents the Anne Banning Leadership Award to Sheila Osann, Founding President. Sheila Osann (seated), chair of Assistance League of Greater Wilmington's Middle School Shopping Night, and her team are eager to assist student shoppers and their families in the chapter's latest philanthropic program.
Long Beach Hosts Southern California Regional Seminar and Networking
Southern California Regional Seminar & Networking 2023 Coming up next month is the inaugural Southern California Regional Seminar & Networking event hosted by the Assistance League of Long Beach! Members from all chapters in Southern California have been invited to attend this exciting two-day networking event, happening February 15-16 in-person in Long Beach.  Chapters located […]
St. Louis Puts on the Glitz with Gratitude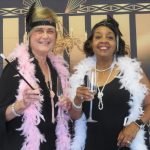 IMAGINE! ASSISTANCE LEAGUE OF ST. LOUIS PUTS ON THE GLITZ WITH GRATITUDE Twenty-first century flappers and Gatsby-esque gentlemen recently gathered to celebrate IMAGINE! at the Doubletree by Hilton-Chesterfield. This year, Assistance League of St. Louis' signature fundraising gala was attended by 245 glittering guests. With Rene Knott, KSDK News Anchor as MC, the packed ballroom […]