Riverside – Assistance League Hosts Blood Drive
Assistance League of Riverside has arranged the blood drive in honor of the birthday of Anne Banning, a founding member of the first Assistance League in 1919. Banning believed every person should be treated with dignity and respect, regardless of race or creed, and that social welfare should be local, voluntary and personal. Assistance League [...]
Temecula Valley – Wear A Mask Campaign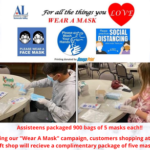 Once again, our chapter is encouraging everyone to be safe with our "Wear A Mask" campaign. Customers who shop at our thrift shop will receive a complimentary package of five masks. We owe thanks to the Temecula Valley Chamber of Commerce for their generous donation of masks, Omega Print for providing the flyers for our [...]
Temecula Valley – Love Comes in Many Forms!
It seems like we are all currently attending endless Zoom meetings. To make the Temecula Valley February regular monthly meeting more fun and show the love for our members, the Hospitality Committee thought out-of-the-box. Goodie bags were assembled, filled with cookies, candies, an emoji game and other fun items. So that every member would have [...]
Sierra Foothills – Carol Kovak awarded the Anne Banning Leadership Award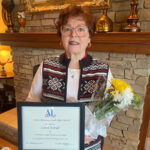 Carol Kovak was celebrated by Assistance League of Sierra Foothills members for her leadership and kindness. Assistance League Sierra Foothills held its first Zoom meeting of the year Jan. 27, during which Carol Kovak, a well-deserving member who has held several leadership positions in the organization, was awarded the Anne Banning Leadership Award for her [...]
Albuquerque – Assistance League holds 'drive-by' food donation event
Albuquerque Assistance League's volunteers help children and adults through community programs. They help the community by raising funds through their thrift shop, Shop on the Corner (furniture and higher-end clothing), and generous donations from individuals and businesses. Albuquerque Assistance League also holds fundraising events during the year to help do this. On February 28, Albuquerque Assistance […]
Inland North County – Assistance League Donates Laptops to Ramona Unified School District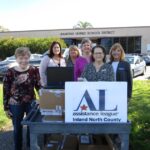 Assistance League of Inland North County donated 18 Chromebook laptops to Ramona Unified School District in late 2020. Pictured: ALINC President-elect Carole Comeau, district nurse Jackie Stiles, director of pupil services Eileen Highley, Operation School Bell Chairman Judy Davis, ALINC President Diana Chambers and Philanthropic Vice President Marolyn Miglin.