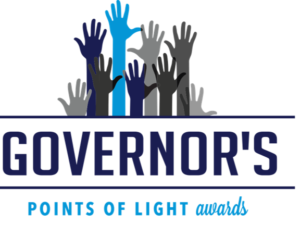 For 2020, we're proud to announce that Assistance League of Reno-Sparks was awarded the Silver award in the Nonprofit/Community Organization category in the Governor's Points of Light Awards competition.
We were the only nonprofit from Northern Nevada recognized in this category. Over 850,000 nonprofits are registered in our state, so this is a great honor.
This is truly a prestigious award in the hierarchy of awards from the Governor's Points of Light awards – apparently ranked highest other than the Lifetime Achievement Award. All members, donors, customers, and supporters of Assistance League in northern Nevada should be proud of this recognition.
President George H. W. Bush's inaugural address invoked a vision of a "thousand points of light," and invited the nation to take action through service to their fellow citizens. "Points of light" demonstrate how "a neighbor can help a neighbor" and the power of service.
Nevada's Governor's Points of Light Awards ceremony was inaugurated in October of 2001. Since that time, these awards have celebrated the extraordinary volunteer efforts of Nevadans across the state, highlighting regional impacts along with the private and public partnership across the nonprofit and corporate sector. You can watch the awards here.