Thrifting is Eco-Friendly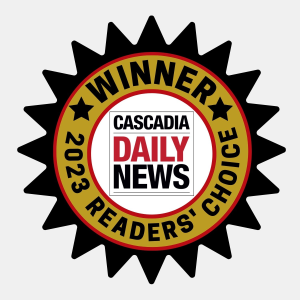 When someone enters your home and compliments you on your taste in furnishings, art, or a unique piece, it gives you much pleasure.
So, too, when a customer enters Assistance League's Thrift & Gift Shop on Meridian Street and expresses how much they appreciate the friendly, helpful volunteers —  the selection of clean, cared for clothing and accessories, housewares, ceramics —it gives us much pleasure. That pleasure was doubly rewarded recently when we were voted by you, our community, in the Cascadia Daily News Readers' Choice contest as "The Best Thrift Store " in Whatcom and Skagit Counties.
Not only is there pleasure in knowing we are serving our customers, your purchases are directly supporting our philanthropic programs of Operation School Bell® , Teen Team, Books and Beyond, Enrichment Scholarship and Care Center Support. You are uplifting the lives of others by shopping at our store while having a direct positive effect on the environment.
Every day we see evidence of the need to protect our environment.  The Bellingham community has supported issues to do just that. Assistance League of Bellingham is honored to be a pathway of keeping clothes out of landfills, reducing carbon and chemical pollution by clothing production and lowering water consumption.
Although thrift store buying has remained constant for many years, the values and expressions behind thrifting have changed. The pandemic and current inflation have shifted priorities for our customers. Consciousness of the environment is growing.  Assistance League of Bellingham is responding by offering local, fair, ethical and sustainable second-hand goods.
  The enticing sales of big-name stores most often cannot match the reward a buyer experiences with a thrift store find! With the influence of fast fashion, where micro seasons of clothing are found on the racks of the big-name stores, finding a sustainable article of clothing is not only good for your budget but especially beneficial for the environment.  While we enjoy a returning customer base, with the rising popularity of thrifting, we are delighted to see new faces.
Join the "thrifting" trend and make a difference for yourself and your friends and especially for the planet.